Police Close Suspected Crack House In Luton
10 September 2014, 15:04 | Updated: 10 September 2014, 15:10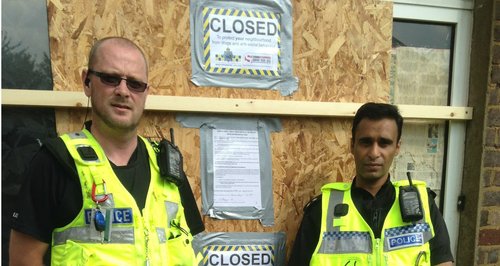 Police in Luton have arrested four men after executing a drugs warrant at two flats in Burr Court, High Town Road this morning.
Acting on concerns from the community, members of the Local Policing Team together with operation commander Inspector Mo Aziz, colleagues from the Serious Crime Investigation Unit and the Beds, Cambs and Herts Dog Unit, undertook the raid at 9am.
Substances thought to be Cocaine and Cannabis were found at the properties and four men; three aged 50 and one aged 41, where arrested at the scene on suspicion of possessing class A and class B drugs with intent to supply. The men are currently being questioned by officers.
Sergeant Pauline Leng, from the Local Policing Team, said: "The success of this operation shows what we can achieve when the community and police work together. With the information and evidence provided we have been able to apply and carry out a closure notice under section 1 of the Anti-Social Behaviour Act, which was granted by Magistrates this morning, and means the premises will now be closed to all people for a period of three months."
If you have information about illegal drugs activities in your area you can contact Bedfordshire Police, in confidence, on 101 - all information is used and can help to keep you and your community safe.