Prep Starts For 2019 Armed Forces Day
2 October 2018, 06:00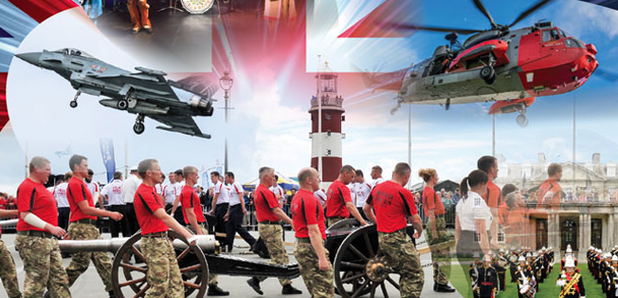 Preparations are starting today in time for NEXT year's Armed Forces Day in Buckinghamshire and Milton Keynes.
Buckinghamshire County Council says it has to be totally funded by sponsorship, donations and income the day itself - which will be at the end of June 2019.

READ MORE:

Armed Forces Day is a national event which gives the country the opportunity to say thank you to the men and women of the armed forces, past and present, for the work that they do in protecting our nation.

In Buckinghamshire and Milton Keynes, the area traditionally holds a family friendly celebration for our local forces families and the wider Bucks community and the date the authority has provisionally pencilled in, is for Saturday 29th June 2019.

BCC says a spectacular day of family fun is proposed with highlights hopefully including an air display, live music and entertainment, funfair and stalls at a new venue of Wycombe Air Park.

However, to make the event possible the County Council needs support from local businesses and communities and says they're looking for sponsors to help deliver another memorable day in 2019, on what will be the 10th anniversary of Armed Forces Day.

In order to run at all, the event needs to be totally funded by sponsorship, donations and income generated on the day itself. Any profit generated will help to fund the next Armed Forces Day in 2021.

Details are available from the Civic and Ceremonial Events Team: bucksccevents@buckscc.gov.uk

The Open University has been a long serving sponsor of the event in previous years and has committed to once again sponsoring Armed Forces Day in 2019.

Sir Henry Aubrey-Fletcher, Her Majesty's Lord Lieutenant of Buckinghamshire who oversees the organising of the event stressed the importance of local support saying:

"We are extremely grateful to both British European Aviation (BEA) and Wycombe District Council (WDC) for offering Wycombe Air Field as a provisional venue for Armed Forces Day 2019 as well as to our wider partners including the Royal British Legion and Buckinghamshire County Council.

Anyone who has attended any of our AFD events in the past will know what a fantastic day out they make for the whole family. Next year on the 10th anniversary we hope to host another spectacular event and are planning to make the day free for all to attend. It's the perfect way to show our support to our armed forces families locally.

However, the reality that we face is, the event cannot happen without support from our local business community. We've been so lucky in the past to receive great support to help us put on the event and once again we are asking businesses and organisations to step up and demonstrate their willingness and commitment to supporting their local community."