Rough Area Revealed For MK Expressway
12 September 2018, 18:48 | Updated: 12 September 2018, 19:00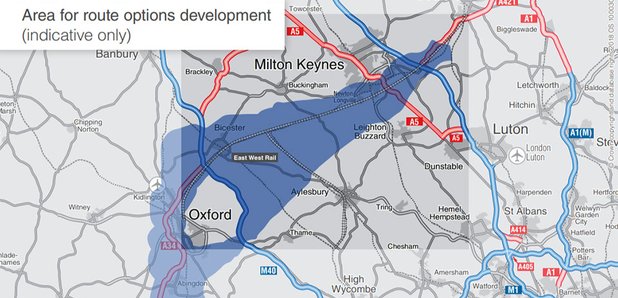 One of three main route options has today been backed by Highways England for the new East-West dual-carriageway, the Expressway.
The road - which will be a hybrid between a motorway and a dual carriageway will eventually link Milton Keynes more directly with Cambridge in the East and Oxford and Newbury to the west.
Today (Wednesday 12th), Highways England opted for a variant of route B, which will loosely follow the route of the planned East-West rail route - which will also link Milton Keynes with Oxford and Cambridge.
The general area selected or "corridor" could see the new road stretch from the junction 13 area of the M1 to an area south of Bletchley, across to the Winslow area.
Then the "corridor" widens considerably, which means the road could loop around the north of Oxford via the Bicester area, or, loop to the south of Oxford to the north of Thame.
Then south of Oxford, it would head down, mirroring the often congested and narrow A34 north-south trunk road down to J13 of the M4, west of Reading near Newbury (at Chieveley).
The road could be open by 2030.