Special Stamps Celebrate MK's 50th Birthday
17 July 2017, 16:13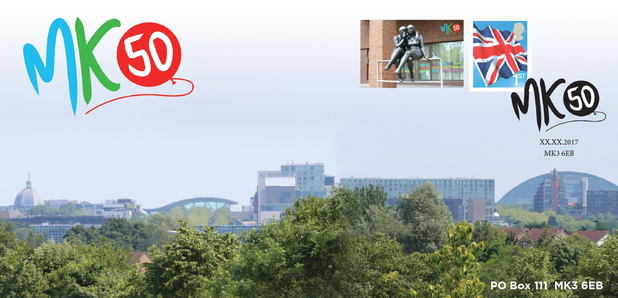 A special set of stamps have been created to help celebrate Milton Keynes' 50th anniversary.
Licenced by the Royal Mail, the stamps show the famous Concrete Cows by artist Liz Leyh, the regularly passed-by sculpture, O Wert Thou in the Cauld Blast by Ronald Rae at Station Square, the memorable The Whispers bronze statue perched outside Milton Keynes' Central Library, and lastly Willen Lake's Peace Pagoda, the first to be built in the Western World.
Milton Keynes locals, former post-master at Bletchley Park Post Office, John Chapman and Creative Designer Simon Goodger, have created the four commemorative stamps.
The stamps are available for purchase with large proportions of profits going to charity. The limited edition full sheets of 20 stamps can be bought for £40 and the mini sheets of 10 stamps cost £25. There are also accompanying MK50 envelopes (known as covers in the stamp world). Each stamps and covers are marked with their very own unique number.
Anyone can have their own bespoke stamp as well, ideal for a business, anniversary, wedding, birthday or special celebration. You can even have your own 'cancel' with a personalised date - the much-loved circular ink stamp which 'cancels' out a stamp so it can't be re-used.
If you are interested in purchasing the MK50 stamps, or want yours personalised, contact John Chapman at chapdjman@gmail.com