Stevenage FC: Security Ask Fans To Show Bras
21 August 2017, 15:13 | Updated: 21 August 2017, 15:18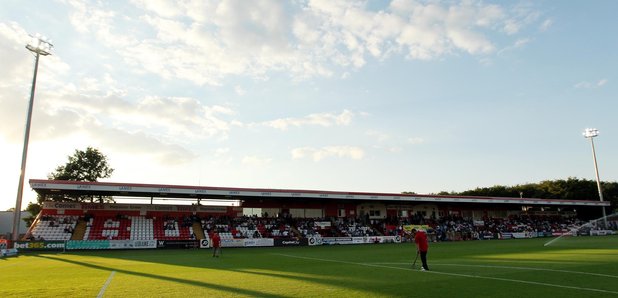 A visiting supporters trust is demanding answers from Stevenage FC over why some female away fans were asked to show their bras at security.
The Mariners Trust – the supporter's group which represents over 3,000 Grimsby Town fans – has written a public letter to Stevenage FC following Saturday's game.
In it, the letter says:
"We believe there were a number of serious failings by the stewards inside the Lamex Stadium which we urge you to investigate to ensure that supporters from other clubs are not treated with the same contempt. It is our view that the treatment of Grimsby supporters by your stewards was amongst the worst our fans have experienced in decades of travelling across the world to watch football.
Several female supporters were asked to lift their tops up to show their bras to female stewards upon entry to The Lamex Stadium. This decision – in the queue in front of other supporters, including men and male stewards – is a gross invasion of privacy. Female supporters have also since contacted us to state they were asked by female stewards if they could feel their bras if they confirmed that they were underwired.
The supporters were made to feel uncomfortable and when they replied they would 'rather not' they were 'reluctantly' let in to the ground. This act would effectively constitute a sexual assault and these types of searches are unlawful.
If deemed necessary, although we cannot see how feeling an underwire in a bra could be deemed so unless acting on previous intelligence, then any fans in question should have been taken to a private area of the ground to be searched by a female steward rather than being searched in full view of male stewards, fans and Police.
We are not aware at this stage that any previous intelligence contributed to these types of searches being implemented against female supporters.
It must also be stressed that not all supporters were subject to the same search – some supporters were patted down, asked to empty pockets and subject to a metal detector wand. Others – including members of the Mariners Trust Board – were waved straight through without any searches at all.
We have also been made aware of full body searches being carried out by stewards on children as young as five years old.
Backpacks were searched and they were subject to the same metal detector search by male stewards as the adults. We have been made aware that at least one minor was visibly upset by being searched in this manner.
A number of items not on your banned list were also seized by stewards upon entry to the ground. Again we understand the need to keep supporters safe, but amongst the items taken include a tiny bottle of hand sanitiser (which is allowed by law onto an aeroplane), contact lens solution, cough sweets and medication. This over-the-top approach unfortunately set the tone for the rest of the afternoon."
Stevenage FC have been approached but have so far not provided a full response.