Team GB's Badminton Squad Revealed In Milton Keynes
27 June 2016, 13:53
Today has seen Team GB's Badminton squad revealed at the National Badminton Centre in Milton Keynes.
Eight players were announced, competing in men's and women's singles and doubles.
It's the first time in 12 years that GB have qualified in all five disciplines.
World number seven pairing Chris and Gabby Adcock will compete in the mixed doubles after finishing 2015 on a high with victory at the World Superseries Finals victory in Dubai in December.

In the men's singles Rajiv Ouseph is set for his second Olympic appearance after competing at London 2012 while Kirsty Gilmour is the representative in the women's singles.

In the women's doubles, Heather Olver and Lauren Smith continue their partnership and Chris Langridge and Marcus Ellis round off the team in the men's doubles.

Team GB have won two medals in badminton since its inclusion as a full-medal sport in 1992 - with Simon Archer and Joanne Goode taking bronze at Sydney 2000 and Gail Emms and Nathan Robertson winning silver four years later in Athens.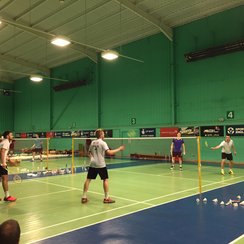 The selected athletes are:

Rajiv Ouseph, 29, Hounslow (Men's singles)

Kirsty Gilmour, 22, Bellshill (Women's singles)

Gabby Adcock, 25, Leeds (Mixed doubles)

Christopher Adcock, 27, Nottingham (Mixed doubles)

Christopher Langridge, 31, Epsom (Men's doubles)

Marcus Ellis, 26, Huddersfield (Men's doubles)

Lauren Smith, 24, Carlisle (Women's doubles)

Heather Olver, 30, Eastbourne (Women's doubles)

Team GB's Chef de Mission Mark England said: "I'm delighted to be able to welcome these eight players to Team GB and see another fine squad of athletes book their seats on the plane to Rio 2016.

"Chris and Gabby Adcock had a very strong year in 2015 and are one of the best mixed doubles pairs in the world while Rajiv Ouseph has long been our strongest men's singles player.

"There is plenty of talent in this squad and on their day any of these athletes can challenge the best in the world so we're looking forward to seeing them in action this summer."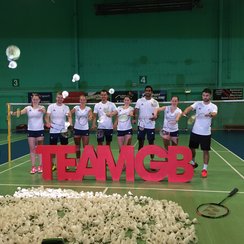 Rajiv Ouseph said: "I'm very happy to be selected for Team GB. It was a long, tough year in terms of tournaments but I'm just happy that's over and now I can concentrate on actually competing.

"I'm very excited to qualify for my second Olympics having been to London 2012 and had a taste of it there.

"I'm really looking forward to getting started and travelling to Rio."

Chris Langridge said: "The Olympics is the biggest thing in badminton. I started playing at the age of 10 so to be selected for Team GB is what I've been working towards for 21 years.

"It's an amazing achievement. That was the first tick in the box, to qualify and make sure we're selected.

"When we get there, that's the stage where I want things to happen."