Thames Valley Police: Force Uses Spit Guards
8 February 2017, 14:52 | Updated: 8 February 2017, 15:11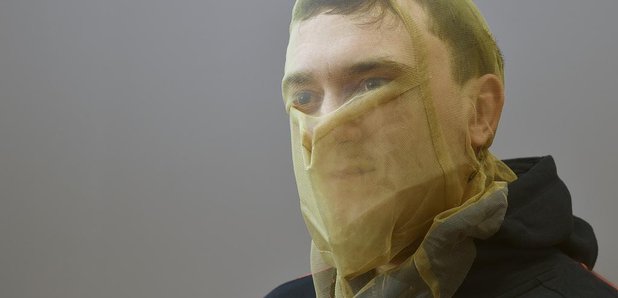 All front line Thames Valley Police officers are now being issued with spit guards to prevent officers from being spat at by suspects during arrests.
Since 1 April, 2016, 306 Thames Valley Police officers have reported being assaulted by being spat at.
Of these, 30 officers reported being exposed to blood-borne virus contamination risk as a result of fluid from the subject entering their mouth, nose, eyes or open wound.
Police say:
"The Thames Valley Police health and safety policy in these incidents requires officers to attend A&E, because spitting bodily fluids such as blood and saliva can pose a risk of transmitting a range of infectious diseases including Hepatitis C.
The use of spit guards will reduce the potential for the transmission of these infectious diseases and are already being used by a number of Forces across the country.
Officers have the right to go about their work without being subjected to assaults including spitting, and this new piece of protective equipment will help to prevent this.
When using a spit guard, officers will be required to monitor the suspect at all times, as well as explaining the reason for its use. Officers will also need to maintain the dignity of the suspect throughout the process.
Spit guards will only be used on suspects who have already spat at officers, or who are thought to be about to spit, and only when a suspect has already been handcuffed.
David Hardcastle, Assistant Chief Constable Operations, Hampshire and Thames Valley lead on joint operations, said:
"Spit guards are being introduced to help protect officers, other emergency services personnel and members of the public from this unacceptable and potentially dangerous behaviour.
Our officers put themselves at risk every day and we want to ensure that they have the appropriate equipment to deal with the challenges they face.
Everyone should be able to go to work without the possibility of being assaulted, including being spat at.
The management team has listened to concerns raised by officers and the Police Federation, as well as taking on board recent recommendations from the National Police Chiefs' Council and have taken the decision to provide them to all front line officers across the Force."
The spit guards are made from a light, see-through, breathable material, which goes over the subject's head and contains a plastic section which prevents a person from spitting.
As with the use of all force, it will be up to the officer to be able to explain their decision to use a spit guard in each individual incident."