Getting to the "Heart of the Matter" in Milton Keynes South
1 May 2015, 06:00 | Updated: 1 May 2015, 06:33
Heart has spoken to voters in the Milton Keynes South constituency about what they care about and what issues will matter to them when they go in to the ballot box on May 7th.
We took our "Heart of the Matter" board to Milton Keynes South to give people the chance to put the questions that matter to them to the people looking to represent them.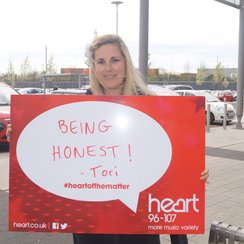 Conservative Party Candidate Iain Stewart: "I always try to be; even when it means giving an answer which may not be popular. For example, in answer to the point on tuition fees, I am not going to pledge to cut them when I would not be able to deliver on this."
Labour & Co-Operative Party Candidate Andrew Pakes: "People are fed up for politicians saying one thing in an election and then doing another afterwards. I'm standing to be our local MP because this is my home. We have never had an MP in MK who has grown up here. I want to change. Helping MK will be my focus."
Liberal Democrat Candidate Lisa Smith: "I cannot prove that I am an honest person via email, however I believe I am a person with integrity and that I say things how they are and if I dont have an answer I will say so. I want to reflect the opinions of the man and woman on the street and have nothing to gain by not being honest."
Green's Samantha Pancheri: "It's about time we had a process in place for people to be able to hold MPs to account when they go back on election promises. It's so surprise that people have lost faith in politcs given the amount of bluff and spin used to make excuses for letting voters down."
UKIP's Vince Peddle: "We have all had enough of the existing Westminster elite. UKIP have a fresh approach to politics, with no spin or rhetoric, just plain honest straight talking and common sense policies."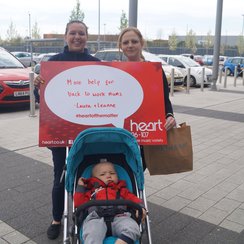 Conservative Party Candidate Iain Stewart: "The Conservative Manifesto contains a pledge to double the free childcare available to working parents of three and four year olds; from 15 hours per week to 30 hours per week."
Labour & Co-Operative Party Candidate Andrew Pakes: "This is a really important point from Laura and Leanne. MK has a lot of young families. Labour will support working parents with 25 hours of free childcare for three and four year olds. We will also help schools provide wraparound care from 8am to 6pm to help give parents more choice."
Liberal Democrat Candidate Lisa Smith: "Lib Dems will continue to raise tax threshold so that more of your wages stay in your pocket, free 15 hours early education for 3-4 year olds and 40% of 2 year olds which means you need to fund less child care. Also we will bring in free school meals for primary age children thus saving the family approximately £400 a year in packed lunches."
Green's Samantha Pancheri: "Parents need a wide range of childcare options that is flexible, easy to access and doesn't break the bank. That's why I'm so proud of our manifesto pledge to build a universally available FREE childcare system from children aged 1 to school starting age."
UKIP's Vince Peddle: "Mums who want to return to work should have good childcare provision; a more flexible system where parents, schools, nurseries and businesses all work together to ensure the child enjoys affordable and high quality care."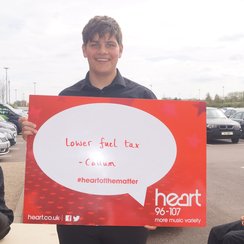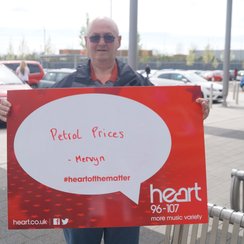 Conservative Party Candidate Iain Stewart: "In this Parliament we have abolished Labour's fuel duty escalator and frozen fuel duty. I would like to see this freeze maintained in the next Parliament."
Labour & Co-Operative Party Candidate Andrew Pakes: "Petrol prices are one of the big pressures on family budgets. Despite oil prices falling, cuts haven't always been passed on at the pump. We need transparency on prices and motorists need a fair deal. Labour has called for the competition authority to launch an inquiry into petrol pricing on the forecourt. Energy bills have shot up by more than £300 since 2010 despite the price of oil falling. We need to fix the energy market so it works for consumers. Labour will freeze gas and electricity bills until 2017 so that we can reform the energy market and put in place measures to help consumers."
Liberal Democrat Candidate Lisa Smith: "I agree petrol prices are high, Lib dems will reform vehicle excise duty to drive continuous reductions. I would agree to try and push for lower fuel tax as this affects much of the population of England."
Green's Samantha Pancheri: "We're being increasingly held to ransom by the upward trend in oil prices. We need to move away from fossil fuel use altogether, and make alternative fuel cars more affordable, as well as developing a public transport system which is so appealing to use that people don't need to rely on cars. I wish this was the answer to our fuel issues, but it's not the long term responsible one. We need to accept that high oil prices are here to stay, and we should look to move away from fossil fuels altogether, for the sake of the environment and also because oil is running out and prices can only get higher as a result."
UKIP's Vince Peddle: "Whilst there is no plan to increase the tax on petrol, UKIP plan to abolish toll roads, and charge foreign lorry drivers a tax to use our roads, in order to reduce the vehicle excise duty and taxes we pay. UKIP will remove EU green taxes from your fuel bills, saving on average almost £200 per household. We should not be subsidising pointless wind turbines. The simplest way to achieve this is by leaving the EU."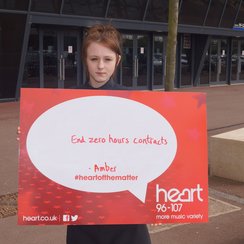 Conservative Party Candidate Iain Stewart: "Zero hours contracts work well for a lot of people, for example students, carers and parents of young children who value the flexibility they give them to fit work around their other responsibilities. The Government has acted to stop employers abusing them; for example if it employs someone on a zero-hours contract it cannot stop the employee from working for someone else at the same time. We will keep them under review."
Labour & Co-Operative Party Candidate Andrew Pakes: "Despite the economy beginning to pick up the benefits of growth are not being shared. Around 30 per cent of jobs in MK are now low-paid. David Cameron says he couldn't survive on a zero hour contract, so I don't see why anyone else should have to. Labour will ban abusive zero hour contracts and tackle low-pay."
Liberal Democrat Candidate Lisa Smith: "0 hours contracts do work for some people and it would be very difficult to stop these completely however, Lib Dems will bring in a right to request a formal contract from an employer. For the younger age group the number of apprenticeships which lead to a proper job will also give opportunities for formally contracted employment."
Green's Samantha Pancheri: "I couldn't agree more. They're exploitative, unfair and have been used as a trick by the coalition government to give the false impression that employment has gone up. People need and deserve regular, permanent hours and a wage that pays fairly."
UKIP's Vince Peddle: "Large businesses must not be allowed to abuse zero hour contracts. Companies larger than 50 employees should offer a full time job after one year, should not apply exclusivity clauses, and must give 12 hours minimum notice for work. Ultimately UKIP believe zero hour contracts should be for small businesses only."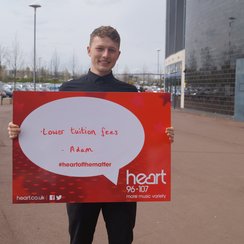 Conservative Party Candidate Iain Stewart: "I can't promise to lower fees as I believe to do so would undermine the quality of university education. In this Parliament I have successfully campaigned to protect support for students from disadvantaged backgrounds and to widen access to higher education."
Labour & Co-Operative Party Candidate Andrew Pakes: "The cost of going to university is far too much. Young people need an opportunity to get on in life. Trebling student fees to £9,000 a year and cutting funding for MK College have not helped students or our local economy. Labour will ease the burden on debt on our young people by cutting tuition fees to £6,000 a year as the first step to reducing costs."
Liberal Democrat Candidate Lisa Smith: "We couldn't deliver the policy we wanted on tuition fees in the coalition government. Both Labour and the Conservatives supported higher fees, and as we did not win the General Election we could not deliver our promise. It was a commitment we made with the best of intentions. But making a promise we were not sure we could deliver was a mistake, and so Lib Dems have apologised. We won't make the same mistake again.So as it stands I will do all I can to ensure that."
Green's Samantha Pancheri: "Better than that - ZERO tuition fees. Education is a right, not a privilege. It is a disgrace that students leave university now with on average £44,000 of debt, which 73% of students will never pay back in full. Higher education can be funded by the state if we clamp down on tax dodging and scrap Trident. A much better investment!"
UKIP's Vince Peddle: "The average student debt now stands at an estimated £44,000. Student tuition fees should be removed for qualifying subjects, such as in Science, Technology, Engineering, Maths and Medicine, to help fill the current skills gap."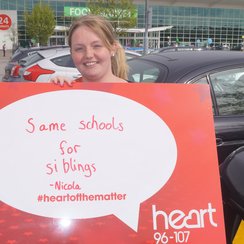 Conservative Party Candidate Iain Stewart: "I have successfully worked with local councillors to increase places at schools which are over-subscribed; for example at Oxley Park Academy. I will continue to do this if re-elected. I also oppose new housing developments - such as the Salden Chase proposals in South West Milton Keynes - when I believe that these will place too much pressure on local services."
Labour & Co-Operative Party Candidate Andrew Pakes: "A great question from Nicola. We need more school places in MK yet the government has cut funding for schools meaning more parents are finding it difficult get their children into their first choice. Labour will protect the education budget and help schools to provide the places we need locally – including new schools where needed."
Liberal Democrat Candidate Lisa Smith: "I understand the difficulty of siblings being in different schools as I worked in Education for a Local Authority and it is perficaly logical to want siblings in the same school. Lib Dems will give more power to Local Authorities with regard to the planning of the number of school places, this would make the system more responsive to local needs and would hopefully mean that schools that have larger placement applications can actually take larger numbers including siblings children into the school."
Green's Samantha Pancheri: "As a mother of four, I agree! It's a logistical nightmare when you have to try and get children to different schools at the same time. Bring all schools under local authority control and restore the right of LAs to open new schools where needed and allocate places fairly."
UKIP's Vince Peddle: "We are suffering from a chronic shortage of schools places, and the solution is to build more schools and very quickly. Children with siblings at a school should be given a priority place at the same school. This plays an important part in a child's development."
Heart has spoken to all five main party candidates in Milton Keynes South on issues like housing, education, healthcare and transport.
All the interviews with each candidate are available here.