Thorplands Shooting - Weapons Seized
23 November 2017, 17:23 | Updated: 23 November 2017, 17:28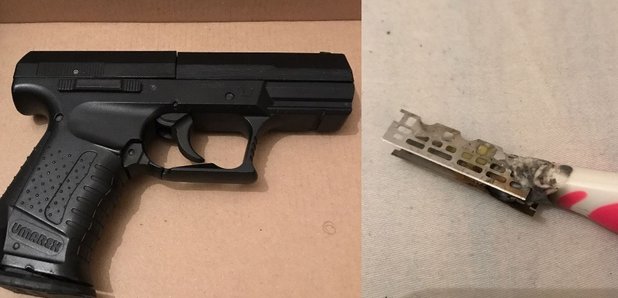 A frightening array of weapons have been seized in Northampton, by police investigating last Friday's shooting.
Two women inside a car in Thorplands were injured, when the vehicle was shot at; at the same time, police took reports of groups of people nearby - walking around armed with knives.
Police were granted emergency extra powers to stop and search anyone and any vehicle - even without specific suspicion of the individual or object.
After the weekend (17th-19th November), patrols continued in the area overnight Monday to Tuesday (20th-21st November), where two men in their 20s and three teenage boys were arrested following the search of a vehicle in Birds Hill Road, Lings. All have since been released under investigation.
Also, four vehicles were seized, and 14 vehicles were searched under section 23 of the Misuse of Drugs Act.
A quantity of drugs were recovered and number of weapons were seized (pictured).
A number of further arrests have also been made and investigations into all potential offences continue.
Supt Chris Hillery of Northamptonshire Police said:
"Section 60 powers, along with stop search powers, are really important as a preventive measure to protect people from harm.
Although the Section 60 powers and authorisation have come to an end, we will keep this under constant review and will continue to encourage police officers to use preventative powers proportionately whilst engaging with the community to prevent further incidents of this, or any other nature.
Please be reassured our officers are working hard to continue to protect people from harm, and I would also encourage anyone with any information to contact us on 101, or to call independent charity Crimestoppers in confidence on 0800 555111."
FURTHER DISPERSAL ORDERS FROM 6pm THURSDAY
Police have tonight been given additional dispersal powers to help prevent any future crime and disorder in the Thorplands area.
In a statement, Northants Police say:
"Section 34 of the Anti-Social Behaviour, Crime and Policing Act 2014 grants a power to uniformed police officers and designated Police Community Support Officers (PCSOs) to deal with individuals engaging in anti-social behaviour, crime and disorder.
This applies not only when anti-social behaviour, crime and disorder have happened or are taking place, but when they are likely to occur, in any location. The period of exclusion from an area can be up to 48 hours and anyone dispersed and found to have returned within this period can be arrested.
Under Section 34, officers have an additional power to confiscate items associated with the behaviour which has led them to order someone to disperse."
The new dispersal powers will initially be in force for 48 hours from 6pm tonight (Thursday, 23 November).