Top Prisons Inspector's Fears For Bedford Jail
13 September 2018, 12:01 | Updated: 13 September 2018, 12:23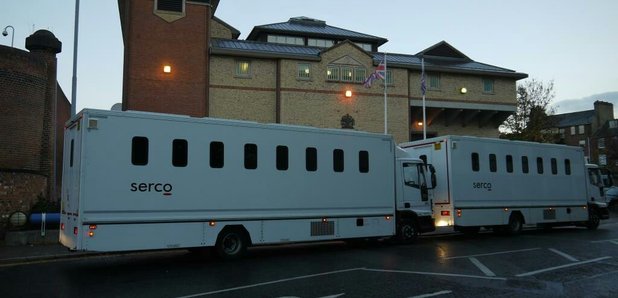 HM Chief Inspector of Prisons Peter Clarke has questioned whether the Prison Service's 'special measures' will be sufficient to address serious problems at HMP Bedford after inspectors found very high violence and inexperienced staff struggling to maintain control.
Mr Clarke urged the Secretary of State for Justice, David Gauke, to intervene in Bedford prisons after a visit in which inspectors feared that "there could all too easily be a complete breakdown in order and discipline."

Bedford has a high turnover of prisoners staying for short periods, and suffered a major outbreak of violence in November 2016.
"Hundreds" of prisoners were subsequently removed but by May 2018 HM Prison and Probation Service (HMPPS) concluded Bedford was making insufficient progress against an internal Performance Improvement Plan.
The prison was placed in special measures by HMPPS, generating a number of action plans.

After the inspection at Bedford, which finished on 6 September, the Chief Inspector has invoked the Urgent Notification (UN) Protocol, which enables him to bring significant problems in a jail publicly to the attention of the Justice Secretary, who must respond in 28 days.
In a letter to Mr Gauke, published today, along with the feedback given to the governor at the end of the inspection, Mr Clarke wrote:
"The clear view of the Inspectorate is that immediate and decisive intervention is needed at HMP Bedford to avert further decline and an even more dangerous lack of control than is currently the case."

The UN letter describes a "continual and unchecked decline in standards" in Bedford over the last nine years, with evidence from the inspection showing:


Very high violence. The rate of assaults had risen significantly since the last inspection (in 2016) and Bedford was second only to HMP Birmingham. Assaults on staff were now at the highest rate in the country
A lack of control. Inspectors saw prisoners refusing to comply with directions from staff, without sanction or effective challenge. Some 77% of available officers had less than one year's service and "there was a corresponding lack of experience at all levels."
Drugs. One prisoner in five said they had acquired a drug habit since entering the jail, and the smell of cannabis and other drugs being smoked pervaded some of the wings
Poor living conditions. Bedford was overcrowded. There was a huge backlog of general repairs. Towels and sheets were only being changed every four weeks and despite efforts to deal with the problem the prison was still infested with rats and cockroaches
Little purposeful activity. The prison lacked a culture of work or learning. Even though there were sufficient activity places for every prisoner, at least on a part-time basis, few chose to attend
Mr Clarke wrote to Mr Gauke:

"It is of great concern that for seven years the prison has been on a path of seemingly inexorable decline. Repeated inspection findings clearly show that this has been the case.
For much of that time there was a marked inconsistency in the leadership of the prison, with frequent changes of governor. The present governor has now been in post for over a year, and that is welcome.
The question for me is whether she and her team, clearly determined as they are to improve the prison, have the capability and capacity to do so… My judgement is that placing the prison in 'special measures' does not, in itself, give assurance that the serious issues… will be adequately addressed."
BEDFORD INDEPENDENT MONITORING BOARD
The Bedford IMB have told they are: "sad, but not surprised, that an Urgent Notice has been served. The prison has gone backwards in recent months with regular shortages of basic items, far too long between kit changes, pigeons flying round inside the jail, infestations of cockroaches and, more recently rats, in most areas.
The struggle to keep the prison clean is being lost and at times the amount of litter and rubbish lying around is disgusting. These are not appropriate conditions in which to detain prisoners in the 21st century.

Despite numerous attempts at refurbishment, the environment of the segregation unit is simply appalling. It is a dungeon. The toilets frequently block, there has been a consistent infestation of cockroaches and, during the summer, there has been a plague of rats.

Violence has increased steadily over the last 12 months and there has been an increased viciousness of individual attacks on officers. The mental health service is also inadequate in terms of its resources and coverage.

We recognise that a lot of effort has been put into making improvements and in many areas that has been successful. But the urgent notification reflects two long-running issues that our Board has repeatedly drawn attention to:
The legacy of inadequate maintenance and investment in a pre-Victorian prison
The mass exodus of experienced officers. Ultimately, although new officers can (and have) been appointed, it is impossible to just turn on the tap of experience
Learning 'jail craft' takes time, and the prison has not had enough of it."