Travel Advice For Saints Vs Saracens At MK
25 April 2015, 00:00 | Updated: 25 April 2015, 08:18
As part of the run up to the Rugby World Cup 2015 matches, Northampton Saints are playing Saracens today StadiumMK.
A large volume of traffic is expected in and around this area - it means diversions for traffic:
Road diversions for MKOne and Bramley Road traffic including Asda and Ikea deliveries
V7 Saxon Street (H9-H10) section will be closed with controlled access at 3 points allowing access for:
MK One – customer access/exit via H9/V7 Groveway Roundabout only into Stadium Way East. No access southbound past site access V2 (Stadium Way East)
Asda Deliveries, IKEA Deliveries, Bramley Road access/exit from H10/V7 B&Q roundabout only
Stadium Traffic access/exit from Dawson Road – with security checks. There will be NO ACCESS for MK One, Asda, Ikea or Bramley Road
Stadium coaches will be parked at southern end of V7 Saxon Street (H10 end) allowing for an exit back onto the A5 Northbound to Northampton.
V6 Grafton Street will be closed from the A5 roundabout to the V4 Watling Street roundabout. Residents and Business will have access from Granbury Roundabout.
DW Sports users will only be able to access their car park after 11am from the H10 Bletcham Way junction into Asda then via the entrance road into Stadiummk. Exit is via the same route.
Temporary traffic signals will be installed within the area affected by road closures to facilitate traffic control and deal with traffic to the Asda, Ikea and Bramley Road areas.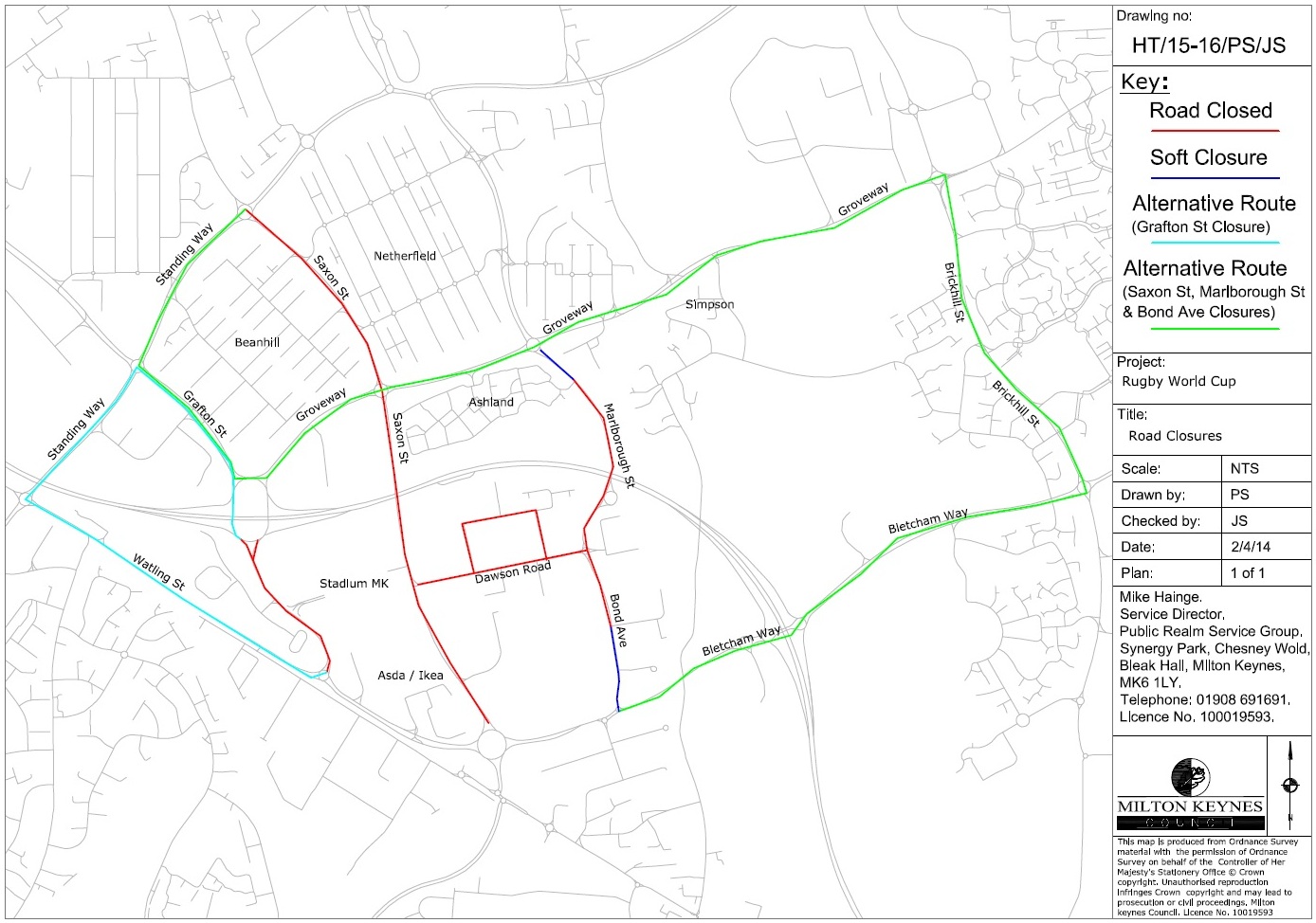 A shuttle bus service will be operating from near the CMK Station to transport ticket holders to the Stadium.
The measures in place will prevent disruption to the vast majority of visitors to Milton Keynes. The CMK Shopping Centre will be unaffected, though should expect additional footfall throughout the day.
Users of MKOne and the leisure facilities around the stadium footprint should expect managed access to the site which will result in some delays, though these will be reduced as much as possible.
Local residents will retain access to their estates; though will not be able to use the closed roads. The road closures will aid in protecting parking provisions for residents in Beanhill and Netherfield. Parking enforcement will be in operation.