Two In Jail For Series After MK Crimes Spree
28 November 2017, 15:40 | Updated: 28 November 2017, 15:46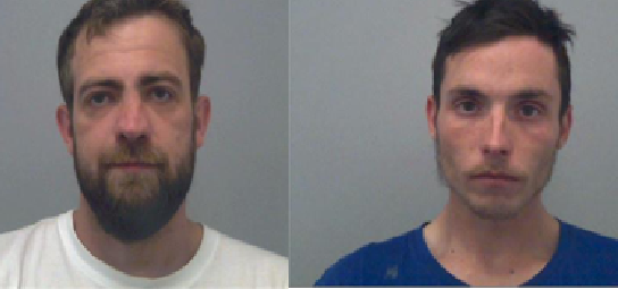 Two men have been sentenced to prison for burglary, fraud and theft offences across the area.
Daniel Dowse, 34, of Melrose Avenue, Bletchley, pleaded guilty to two counts of burglary, and one count of fraud by false representation at Aylesbury Crown Court and jailed to 6 years 4 months imprisonment.
Six other burglary and attempted burglary offences were taken into consideration during sentencing.
Nathan Fannin, 32, of no fixed address, pleaded guilty to two counts of burglary one count of theft and sentenced at the same court to 5 years and 10 months imprisonment.
Seven other offences of burglary and attempted burglary were also taken into consideration.
:: 18 September (around 10pm)
Mr Dowse and Mr Fannin broke into a property in Beverly Place, Springfield. They searched downstairs in the house, taking a laptop and games consoles.
A woman was upstairs in the property at the time. She was uninjured in the incident.
:: 28 September (around 3pm)
Mr Dowse and Fannin broke into a house in Fortescue Drive, Shenley Brook End.
The pair stole two laptops, two tablets and a computer monitor.
The house was not occupied at the time.
At 5pm the same day Dowse and Fannin went to Buy, Sell and Loan outlet in Agora Centre, Queensway, Bletchley. Whilst there Dowse sold the computer monitor stolen from Fortescue Drive.
Knowing it was stolen, Dowse committed fraud by false representation.
During the visit Fannin stole gold chains from a display cabinet in the shop.
Dowse was arrested on 30 September 2017 and charged on 1 October 2017.
Fannin was arrested on 4 October 2017 and charged the same day.
Investigating officer, Detective Constable Alana Heaver of the Investigation Hub based at Milton Keynes, said:
"The lengthy sentences handed to Dowse and Fannin show that the impact on the victims of their crimes has been rightly recognised by the courts.
Burglary is a despicable crime and the victims in these cases have been profoundly affected.
I am pleased that the hard work of all the officers involved ensured that two prolific burglars entered guilty pleas at court.
I hope the victims can obtain some reassurance and closure in knowing these two will be in prison for quite some time.