Two Men Guilty Of Attempted Murder In Rushden
14 September 2016, 15:05 | Updated: 14 September 2016, 15:17
Two men from Rushden, have been found guilty of the attempted murder of a man in the town following a shooting in the town in July 2015.
At Birmingham Crown Court today, Masimba Tinofirei, 19, and Narinder Sondhi, 38, were both found guilty of attempted murder.
Another man, Calvin Scott, 19, has also been found guilty of perverting the course of justice.
Tinofirei, of Washbrook Road, Rushden, and Sondhi, of The Hedges, Rushden, were found guilty of shooting a 32 year-old man in Hayway, in the early hours of July 5, 2015.
The victim was approached by the two men who threatened him with a shotgun before shooting him in the back and head with pellets. He was taken to University Hospital Coventry with numerous injuries but survived the incident.
Scott, of Upper Queen Street, Rushden, helped to dispose of a car used by Tinofirei and Sondhi in the shooting - it was later found on fire nearby, two days after the shooting.
All three men denied the charges against them but a jury today found them guilty of all offences after an 11 day trial.
Detective Inspector Lee McBride lead the investigation:
"This was an unprovoked incident which has had a lasting impact on the victim who required surgery as a result of his injuries.
Neither Tinofirei nor Sondhi have shown any remorse for their actions at any point since the shooting. I am sure their intention was to kill their victim and it is more through luck than judgement that they failed to do so.
Incidents of this nature are very rare in Northamptonshire, and I hope local people take some reassurance that these men have been found guilty and are in prison.
This was a complex investigation which involved working alongside the Crown Prosecution Service, who I would like to thank for their help and assistance."
Northamptonshire Police has been working closely with partners in East Northants and Wellingborough to tackle violence in the last 12 months.
DI McBride said:
"The level of violence we saw in this crime is clearly unacceptable and we want to ensure that we are doing all we can to prevent further incidents of this nature from taking place.
We are working closely with partners to look at long-term solutions to both tackle those people who are committing violence offences, but also to prevent people from getting involved in a world of drugs and violence in the first place."
David Oliver, Chief Executive at East Northamptonshire Council and Chair of East Northants Community Safety Partnership said:
"We are very grateful to the police for pursuing this case vigorously and removing these dangerous individuals from our streets.
While that is an obvious outcome of our working closely with the police, we also value the behind-the-scenes work we are doing with them and with other partners. Our shared aim is to find better alternatives for vulnerable young people than being drawn into gangs and therefore to reduce their impact on our communities."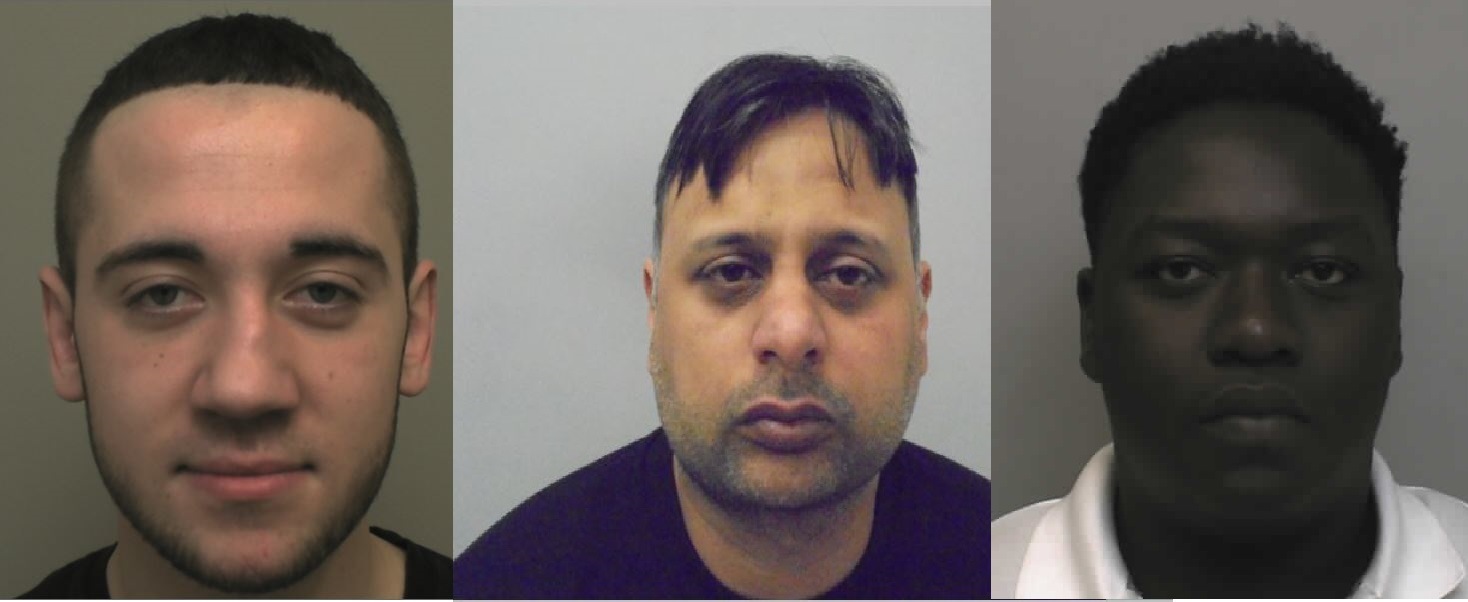 Calvin Scott (left), Narinder Sondhi (centre) and Masimba Tinofirei (right) are due to be sentenced on 13 October at Birmingham Crown Court.