Vulcan Prep Works To Start By End Of Year
27 September 2016, 13:18 | Updated: 27 September 2016, 13:22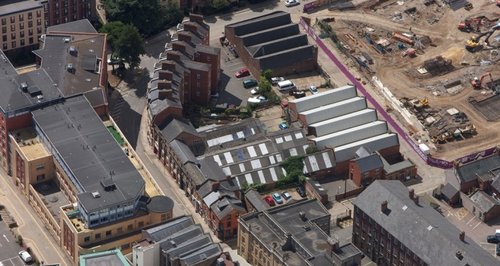 Northampton Borough Council says the enabling works to the Grade II Listed Vulcan Works will begin before the end of the year.
There's been some changes to the original plans which now enables the works to begin later this year, with a completion planned for summer 2018.
The refurbishment project, which is taking place in partnership with the University of Northampton, will see the current site developed into an Institute for Creative Leather Technologies and a Leather Conservation Centre.
The project is part of the council's £13m development of the cultural hub, with £5m used for the leatherworks centre.
A second phase will create managed workspace, supporting around 60 businesses and create up to 200 new jobs.
Cllr Tim Hadland, Northampton Borough Council cabinet member for regeneration, enterprise and planning, said:
"We're really pleased that works will begin later this year. The Vulcan Works is a key development within our burgeoning cultural quarter. Along with the new museum extension, and existing assets including the Royal & Derngate and the Rennie Mackintosh house at 78 Derngate, it is fast becoming a regionally significant destination."
Jane Bunce, director of student and academic services at the University of Northampton said:
"We're delighted that work on the Vulcan Works project will commence before the end of the year. The Vulcan Works will be a place to celebrate the University and Northampton's rich history of leathercraft, and set the tone for the future of the industry.
It's also an important part of the University's greater integration within the town centre, as we prepare to welcome new students and the community to our Waterside Campus, which will open in 2018."