Fat Toni's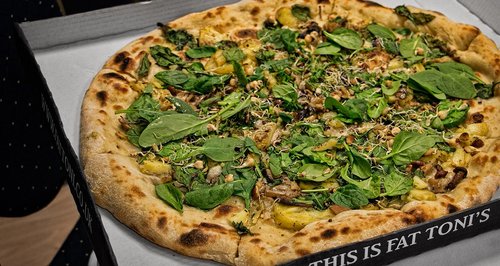 Fat Toni's are passionate about fresh and tasty pizzas, they are championing the concept of high quality takeaway food and bringing it to your doorstep.
Sharing, Talking, Laughing, Eating.These actions are some of the oldest foundations of Italian family food culture. They are also the core principles by which they run Fat Toni's.
If you're as passionate about food as they are, you'll love it. And their huge 20" pizzas are perfect to share and enjoy with your family and friends... or just yourself if you're feeling up to a challenge.
They can split your pizza ½ and ½, 3 or 4 ways so you can keep everybody happy and still share the feast.
They've also two tasty types of delicious bases, the San Francisco and the Ischia.
San Francisco is the world's most famous sourdough culture gives a creamy and airy finish, that's why it's loved by bakers and the Ischia is the most sought after culture in the world used by pizzaiolos across Italy. They can also cater for vegetarian, vegan and gluten free.