Bourton: Meet The New Penguin Chick
11 September 2014, 19:12 | Updated: 11 September 2014, 19:27
A couple of king penguins in Bourton-on-the-Water have produced a chick that is anything but king size.
But keepers at Birdland Park and Gardens in Bourton-on-the-Water say they are ''thrilled'', after the attraction's first king penguin egg was hatched successfully.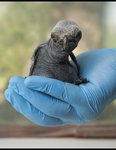 The chick came out of an egg the size of a person's palm, following a two-month wait in a special incubator.
Staff left it there to hatch because king penguins do not often breed for several years.
The little bird is Lily and Frank's second chick after Junior, who came into the world in 2006 and was also hand reared.
Keepers say the kind penguin is the second largest penguin species in the world, the largest being the emperor penguin, which can weigh 45kg.