Cheltenham: Keeping The Town Safe During Race Week
5 March 2015, 09:36 | Updated: 5 March 2015, 09:38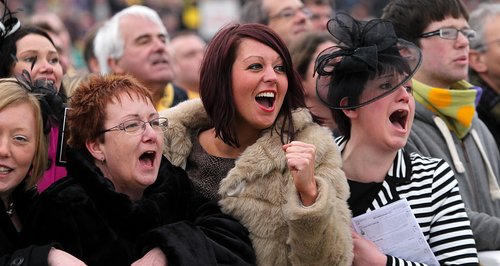 Cheltenham is gearing up for it's biggest week of the year.
An extra 50,000 people a day will head for the town during the National Hunt Festival and Cheltenham Borough Council, Gloucestershire Police, Gloucestershire County Council and other agencies say they will be working together to keep the town safe.
Public Protection and police officers will be out every night during the week to carry out premises and licensed vehicle inspections to ensure they are not breaching conditions.
To make sure that traffic flows smoothly, traffic orders will be in place on Albert Road, New Barn Lane, Evesham Road, Southam Road, Swindon Lane, Hill Court Road and the Promenade (between High Street and Imperial Circus) this year to help keep the traffic flowing.
Councillor Andrew McKinlay, cabinet member for development and safety, said: ''Our priority is for everyone visiting the town to have a safe and enjoyable time. We have excellent relationships with those who manage the night-time economy and who understand their responsibilities. The council, in partnership with officers from Gloucestershire Constabulary, will be out every night to carry out checks on premises to ensure compliance with these responsibilities so as to ensure everyone has a safe and enjoyable festival week.''
Cheltenham Inspector Tim Waterhouse said: "Gloucestershire Police is fortunate to have strong, established relationships with partner agencies which will be vital to ensure that policing of race week goes smoothly and visitors to the town have an enjoyable experience.
"Our number one priority is to keep visitors and residents safe during the week and although we are experienced in policing this event we won't be complacent. We would urge the public to work with us to ensure that everyone enjoys the week's festivities."
Jim Daniels, parking manager at Gloucestershire County Council said: ''Cheltenham sees an influx of visitors during race week and the roads are much busier, so we work with the borough council and the police to keep traffic moving through the town and get visitors to the event with minimum disruption.''
Other activities during the week which the council will be stepping up checks with are street traders and taxi and private hire drivers. Unauthorised street traders can take advantage of residents and visitors who may end up buying illegal or fake goods. An unlicensed taxi not only takes trade away from regular Cheltenham taxis, but can also be unsafe for passengers.
The council's cleansing team also has the job of cleaning the mess caused by an extra 50,000 plus people in the town per day.
There will be additional signage around the town centre to help direct people to taxis, buses and toilet facilities and additional toilets (portaloos) will also be available.
Find out more HERE.