Cheltenham Literature Festival Line-Up Announced
8 August 2015, 04:00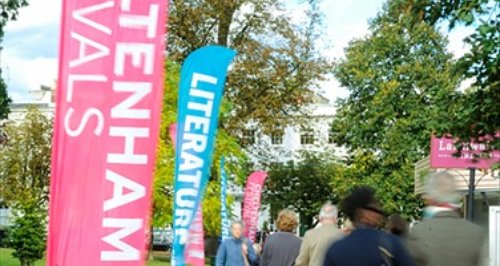 The line up has been revealed for The Times and The Sunday Times Cheltenham Literature Festival that takes place from Friday until Sunday, October 2-11
This year the Festival boasts speakers as diverse as Ronnie Wood, Martha Lane Fox, Matthew Bourne, George the Poet, Garry Kasparov, Jeanette Winterson, Nick Clegg, Nigel Mansell, Carrie Hope Fletcher, Nick Frost, Nigella Lawson, Bill Bryson and Gino D'Acampo.
Six past Booker Prize winners will appear (including double winner Peter Carey) as well as all of the 2015 finalists. Three Pulitzer Prize winners will also speak, as will Costa Award and Wellcome Book Prize winners.
In the programme of more than 500 events, the Festival will touch upon subjects as diverse as history, politics, sport, food and fashion. The theme of this year's Festival is Defining Moments: the pivotal occurrences that conclusively alter life as we know it, be they global, cultural, social or personal.
Baroness Gail Rebuck, Chair of The Times and The Sunday Times Cheltenham Literature Festival said:
"We are passionate about curating unique events featuring imaginative and surprising pairings; unusual meetings between thinkers and writers that can only be found during the ten extraordinary days at Cheltenham. We are not shy about tackling controversial topics, prompting fresh and lively discussion. Our hope is that visitors arrive curious and leave inspired."
This year's Guest Directors are Pulitzer Prize-winning American novelist Jane Smiley; socially motivated spoken word artist George the Poet; multi-award winning Australian novelist (author of The Slap) Christos Tsiolkas; and German author and founder of The European magazine Alexander Görlach.

The popular Book It! family programme also returns this year with an enviable programme featuring the world's most-popular authors for children and young people, including an event which sees current and former Children's Laureates Chris Riddell and Michael Rosen speaking together, as well as talks from David Almond, Patrick Ness, Lauren Child, Julia Donaldson, Sandi Toksvig and Julian Clary. For young adults, Carrie Hope Fletcher and Millie Mackintosh will also be doing events.

Programme Highlights:

Exclusive events from Anita Shreve and Robert Harris.
Booker Prize winner Salman Rushdie will present his much anticipated first novel in eight years: Two Years Eight Months and Twenty-Eight Nights.
Other Booker Prize winners appearing include: Pat Barker, John Banville, Julian Barnes, Anne Enright and Peter Carey.
Other best-selling fiction authors include Bill Bryson, Gill Hornby, Nell Zink, Kate Atkinson, Audrey Niffenegger, Marian Keyes, David Lodge, Ali Smith, Jilly Cooper, Louis de Bernieres, Rachel Joyce, Jonathan Franzen, Åsne Seierstad, John Banville, Paula Hawkins, Tony Parsons, Jojo Moyes, Patrick Gale, A.D. Miller, S. J. Watson, Günter Grass and Victoria Hislop.
This year's Festival presents musings and revelations from a number of stars from the music world. Ronnie Wood revisits his lost diary from 1965, Chrissie Hynde talks to Stuart Maconie, Tracey Thorn talks to Mark Ellen, and Bob Harris shares stories from his time on the airwaves. Zoë Wannamaker will recreate a Stevie Smith music and poetry event from the 1965 Cheltenham Literature Festival.

Cheltenham Literature Festival always takes a worldview and this year's internationally-focused talks include former chess Grandmaster Garry Kasparov on Putin's Russia, Vicky Pryce on Greece, Yeonmi Park on North Korea and a discussion of the reunification of Germany 25 years on.
This year's big Times Debate is about Europe: Nick Clegg taking the pro-stance against MEP Daniel Hannan, while Nigel Lawson will join Gus O'Donnell and Alistair Darling to explain How to Write a Budget.
Sporting talks include a revealing look at FIFA, reminiscences from Nigel Mansell, a Rugby World Cup review from Ben Cohen, Best Mate trainer Henrietta Knight will talk horseracing and there'll be a hot debate about the World's Greatest Cricketers.

Alexander Armstrong and Richard Osman will do an A-Z of Pointless. The I'm Sorry I Haven't A Clue team will also be at the Festival and audiences can get behind the scenes of The Archers. There's also a Poldark event (with cast members tbc) and BBC favourites Robert Peston and Nick Robinson together in conversation.

Actor Nick Frost talks to Edith Bowman about his fascinating life, Reginald D. Hunter looks at how Britain has changed over the last 20 years, and Caitlin Moran is on Celebrity Watch.
An exclusive pre-recorded interview with Clive James will be shown, Terry Wogan and Meera Syal will present their first fictional works, and Bill Oddie muses on the wildlife he's encountered during his career.
Matthew Bourne will talk about his life in dance and West End star and online sensation Carrie Hope Fletcher will discuss the perils of celebrity.

Best-selling author Matt Haig will talk about beating depression, while pianist James Rhodes, whose Memoir Instrumental is finally available after an Appeal Court judgment was overturned, will perform and talk about the therapeutic power of music.

Fiona Shaw gets to grips with Brecht. There'll also be celebrations of Arthur Miller, Saul Bellow, Anthony Trollope, W.H. Auden, T. S. Eliot, and of course Shakespeare (talks with Jeanette Winterson, Tracey Chevalier and Anthony Sher). Maggi Hambling, Simon Schama, and Edmund de Waal will also be giving talks.

Lead by George the Poet, this year's poetry events boast Hollie McNish, Les Murray, Simon Armitage, Paul Muldoon and Wendy Cope. The Festival will also revisit Ginsberg's Howl.
Leading business women Annabel Karmel (Mumpreneur) and Michelle Mone (Ultimo founder) will reveal the stories behind their success. Mary Portas will also discuss her inspiring life.

Delicious food is also on the table as celebrity chefs including Gino D'Acampo, Hugh Fearnley-Whittingstall, John Torode, Bill Granger, Gizzi Erskine, Rick Stein, Mina Holland, Masterchef winners Sophie Thompson and Lisa Faulkner and Made in Chelsea star Millie Mackintosh, all take to the Spiegeltent to serve up delicious food from their latest recipe books.

Family programme:

Storytellers will bring The Tiger Who Came to Tea and Charlie and Lola to life. Julia Donaldson and illustrator Lydia Monks will host a fun singalong storytelling session, while Francesca Simon and Steven Butler battle it out to decide if Henry's the most horrid, or if Dennis claims the menace crown. Michael Morpurgo and Judith Kerr will also be in conversation.

The Festival will celebrate 70 years of Thomas the Tank Engine, children will be able to join The Famous Five for the day, and there are lots of workshops going on, including Henry V with the RSC.
Horrible Science and Moshi Monsters events are also on offer and YA author Melvin Burgess will introduce some new fiction to older children and young adults.