Confirmed Cases of Measles In Gloucestershire
28 September 2017, 08:33 | Updated: 28 September 2017, 08:37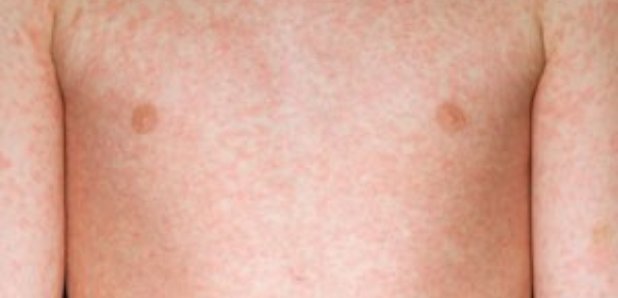 Public Health England is asking parents to check that they and their children have received two doses of the MMR vaccine, which protects against Measles, Mumps and Rubella.
It comes after three confirmed and six probable cases of measles in children and young adults in Gloucestershire.
Measles is a highly infectious viral illness that can be very unpleasant and sometimes lead to serious complications. It is now uncommon in the UK because of the effective MMR vaccination programme. Although usually a mild illness in children, measles can be more severe in adults.
Dr Toyin Ejidokun, Consultant in Communicable Disease Control for Public Health England South West, said: "While measles is now relatively uncommon in England thanks to the MMR vaccine, those who are unvaccinated, or not fully vaccinated, remain susceptible to the disease.
"The cases we have seen recently have affected children and young adults. It is important to be aware that it is never too late to have the vaccine, so if you've not received two doses of the vaccine in the past – or you're unsure – speak to your GP. There's no harm in receiving an additional dose where there is any uncertainty.
"Also remain alert to the symptoms of measles, which can include cold-like symptoms, sore red eyes, a high temperature or a red-brown blotchy rash. If you experience these symptoms seek medical attention, but be sure to phone ahead before you visit your GP surgery so arrangements can be made to prevent others from being infected."
You should also see your GP if you've been in close contact with someone who has measles and you've not been fully vaccinated (had two doses of the MMR vaccine) or haven't had the infection before – particularly those who are immunosuppressed, pregnant or infants.
An MMR catch-up immunisation campaign was launched in 2013, targeting unimmunised and partially immunised adolescents aged 10 to 16 years. As a result of this campaign only 90 cases were confirmed in 2014, and 59 cases in 2015. 2016 has seen a marked increase with 318 confirmed cases of measles reported in England during 2016.
The MMR vaccination is routinely provided as part of the NHS Childhood Immunisation Programme in England. Uptake is high with more than 90% of children receiving 1 dose of the vaccine by 2 years of age since 2012.
The initial symptoms of measles develop around 10 days after a person is infected.
These can include cold-like symptoms, such as a runny nose, sneezing, and a cough, sore, red eyes that may be sensitive to light, a high temperature (fever), which may reach around 40C (104F). A few days later, a red-brown blotchy rash will appear. This usually starts on the head or upper neck, before spreading outwards to the rest of the body.
Symptoms usually resolve in about 7 to 10 days.
Find out more about measles here
http://www.nhs.uk/conditions/measles/Pages/Introduction.aspx
Find out more about the MMR vaccine here
http://www.nhs.uk/conditions/vaccinations/pages/mmr-vaccine.aspx