Letting dogs jump from cars could damage their joints
20 July 2018, 08:28 | Updated: 20 July 2018, 08:31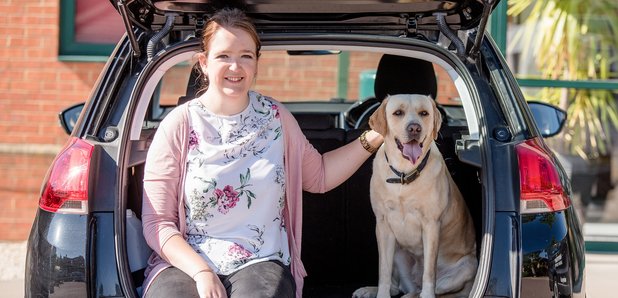 Dog owners could be unknowingly putting their pets' health at risk by allowing them to jump from cars.
A study by University Centre Hartpury has found dogs could suffer long-term joint disease in their front legs through jumping from car boots onto a hard surface.
The findings came from a study of 15 healthy adult dogs jumping from a range of platforms representing common boots heights and then collecting data to measure the effects on their joints.
Dr Alison Wills, senior lecturer in Animal Welfare Research, said:
"Many dog owners allow their pets to jump out of a car boot, but to date there has been no study that has investigated whether this places dogs at risk of injury. "Dogs develop degenerative joint disease for a multitude of reasons, but our study suggests there is a concern that dogs jumping from cars may be at increased risk of developing this type of condition.
"We would suggest that people consider using ramps stretching from their car to the ground for all dogs, instead of just for those with existing problems.
"It is also worth remembering that dogs jumping from a vehicle may not have moved for an extended period, meaning that they lack the warm-up that is essential for injury prevention." In good news for pet owners, a previous study at Hartpury demonstrated that hydrotherapy may be beneficial for dogs with elbow dysplasia as it increased their range of movement immediately after a single session.
"Dogs with elbow dysplasia displayed an increased range of motion, stride frequency and stride length, measures of mobility in our study, after hydrotherapy," said Dr Wills. "Dogs also come in all shapes and sizes so what works for one may not for another. Even so, most dogs still find swimming fun."