FBU Against Fire Service Cuts
5 January 2016, 17:05 | Updated: 5 January 2016, 17:10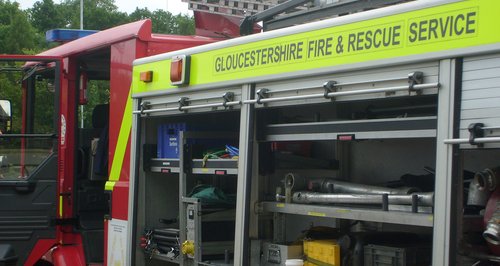 The Fire Brigades Union is urging Gloucestershire's politicians to halt cuts to the fire service, after the conclusion of a public consultation.
The FBU is concerned people trapped in property fires, floods and road traffic collisions will have to wait far longer for firefighters to rescue them if cuts are given the go ahead.
The union wants councillors to reject plans which they claim would lead to the closure of Painswick fire station and cut all the full time firefighters based at Cirencester fire station.
Trevor French, local FBU rep in Gloucestershire, said: "The proposals would have a dangerous impact on the ability of Gloucestershire Fire and Rescue Service to effectively serve the public. Our capacity to deal with large scale, protracted incidents, including fires and floods would be compromised.
"Gloucestershire County Council seem to forget the lessons from the extensive flooding that battered our county in 2007. If these cuts go through and a similar tragedy hits our county again, we will be in a worse position to deal with the outcome.
"The public overwhelmingly reject these proposals to cut our fire and rescue service. It is time for politicians to rethink and reject these dangerous plans."
In response, Cllr Will Windsor-Clive, cabinet member for fire, infrastructure and planning at Gloucestershire County Council, said; "We have been running a public consultation into the future of Gloucestershire Fire & Rescue Service (GFRS).
"We asked the public and key partners for their feedback on how GFRS provides its range of community safety and emergency response services to the communities of Gloucestershire.
"The council and fire and rescue service have been engaging with the public over the last twelve weeks, and we are very grateful for all of the responses that we have received, including the document submitted by the Fire Brigades Union and other trade unions.
"We will ensure that all of the comments received throughout the consultation are considered when making decisions on the future of our fire and rescue service."