Gloucester: £130m Regeneration Masterplan Revealed
6 March 2015, 19:18 | Updated: 9 March 2015, 14:38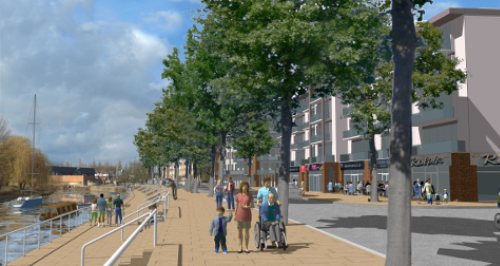 A £130m masterplan has been revealed to regenerate the Quayside and Blackfriars areas of Gloucester.
It covers land the size of four rugby pitches, including the prison and the initial idea is to build new homes and student accommodation and to revamp the back of Gloucestershire County Council's home, Shire Hall.
There would also be improvements to the Quayside giving better access to the River Seven and creating better links with the docks and the cathedral.
The masterplan has the potential to bring a significant number of jobs to the local area, both as the construction on the site takes place and on a permanent basis, as well as opportunities for apprenticeships.
Cllr Mark Hawthorne, Leader of Gloucestershire County Council, said: "Our ambition is to put Gloucester on the map as a vibrant city with opportunities to boost the local economy and attract more visitors. To do this we are working with GFirst LEP to attract up to £135 million of brand new investment into the Quayside and Blackfriars sites. This masterplan marks the first step on that journey. It is an exciting time for the city."
Cllr Paul James, Leader of Gloucester City Council, said: "The regeneration of this area has eluded the city for decades, but now we have the best opportunity yet to make it happen. These historic areas have significant importance to Gloucester linking the well known local landmarks of the Docks, Cathedral and River Severn. The masterplan we will be unveiling is the starting point for determining how this area is transformed, but needs to be flexible enough to take account of market conditions and the views of our residents. Working together with the county council and institutions like the University of Gloucestershire we have the opportunity to do something very special for the city here."
Find out more HERE.