Gloucester Bus Station: Changes To Road Layout
29 February 2016, 14:49 | Updated: 29 February 2016, 14:51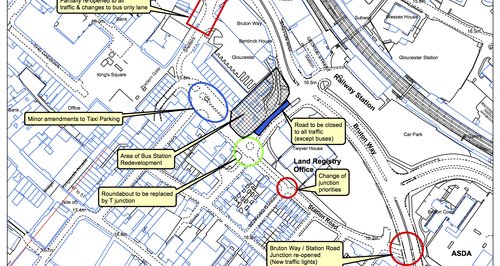 Plans have been revealed for a new road layout for Gloucester's new £7.5m bus station.
Businesses and residents living close to the bus station and on surrounding roads will be receiving a letter that outlines the proposed changes to the road layout.
These include:
Re-opening the Station Road / Bruton Way junction to traffic which will be controlled by a new set of traffic lights
The closure of part of Bruton Way (subject to an Order by the Secretary of State under the Town & Country Planning Act - more information is available from Gloucester City Council - Ref: NATTRAN/SW/S247/2174)
The bus only part of Market Parade will be partially re-opened to traffic
The removal of the roundabout at the junction of Bruton Way, Market Parade & Station Road
Changes to the entrance & exit of the multi-storey car park
Changes to Station Road / Bedford Street junction (change of priority)
Changes to the Taxi parking on Market Parade
In addition, plans for the new hub include a modern fully enclosed concourse, 12 bus bays, a manned ticket office, electronic timetable displays, a new cafe and CCTV.
Whilst the construction work is being carried out, the existing bus station will remain fully functioning and existing bus routes and stops are not expected to change.
Cllr Vernon Smith, cabinet member for highways at Gloucestershire County Council, said: "This is a fantastic scheme and the new bus station will be a great addition to the city centre. These changes to the road layout are a small part of a much bigger project and when it's all brought together it will be a great asset to the city.
Cllr Paul James, leader of Gloucester City Council and cabinet member for regeneration, said: "I'm very excited to start the work on the new bus station and am really pleased with the progress we've made already. The changes to highways won't start for a few months yet, but the announcement of the proposed plans are another step towards the finish line."