IPCC Report Into Police Contact With Hollie Gazzard
30 April 2015, 14:25 | Updated: 30 April 2015, 14:28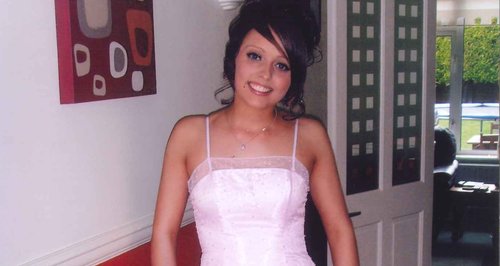 The police watchdog has issued a report looking into the contact Gloucestershire Police had with Hollie Gazzard before her death.
The Independent Police Complaints Commission has found the contact was proportionate but the force's domestic abuse policies and training in place at the time hindered a comprehensive response.

Hollie was stabbed to death by her ex-boyfriend Asher Maslin at a hair salon in Gloucester on 18 February 2014, three days after she had reported him to the police for theft of her bank card and money from her account.

The report found:

Although the officers' actions were proportionate to the theft, they did not fully appreciate its potential importance when considered as part of number of domestic incidents.

During the the call handler who took Hollie's call and the two officers who responded were investigated for possible misconduct. Although the investigations report highlighted failings by the officers in their response it did not recommended they or the call handler face misconduct action.

The officers' response was symptomatic of the force's inadequate policies and guidelines. Just days before Hollie's murder Her Majesty's Inspectorate of Constabulary (HMIC) expressed significant concerns about the force's ability to consistently and appropriately deal with victims of domestic abuse.

Associate Commissioner Guido Liguori, said: "My sympathies remain with Hollie's family and friends following her tragic murder. It is clear from our that at the time Gloucestershire Constabulary's training and policies were inadequate, meaning the officers and call handler were ill-equipped to fully appreciate the domestic abuse factors within the theft.

"I am pleased that a re-inspection by HMIC in June has commended the force's progress in this area. Indeed, it is a feature of our interviews that those subject to the were able to identify how they could have provided a better response thanks to training the force has recently delivered."

Gloucestershire Police have issued a statement in response:

Hollie was stabbed to death by Asher Maslin at the hairdresser's where she worked in Southgate Street in Gloucester on 18 February last year.

Three days earlier Hollie had reported Maslin to police for the theft of her bank card and money from her account.

In their report, which is available in full here, the IPCC found that the contact between police and Hollie before her murder was "proportionate but that the force's domestic abuse policies and training in place at the time hindered a comprehensive response".

Responding to the report, Assistant Chief Constable Richard Berry said: "Hollie's murder shocked the whole community and had a profound effect on so many of us, both professionally and on a personal level. Our thoughts remain with her family.

"We recognised that there were weaknesses in some of our training and systems when it came to handling domestic abuse at the time. I've spoken with Nick Gazzard about the findings of the report and fully acknowledged those shortcomings. I am very grateful to Nick for his continued work promoting domestic abuse awareness and helping community safety.

"It was vitally important to react quickly to those issues and make some very significant steps forward. Great progress has been made in many areas including working across our partnerships. In terms of policing response, our recent work has been commended in the most recent report by Her Majesty's Inspectorate of Constabulary.

"Part of Hollie's legacy will undoubtedly be an increased awareness amongst all of us about the nature of domestic abuse and the devastating impact it can have. Everyone has a responsibility to confront it regardless of where it occurs''.