Blackfriars Regeneration A Step Closer
18 August 2015, 15:36 | Updated: 18 August 2015, 15:40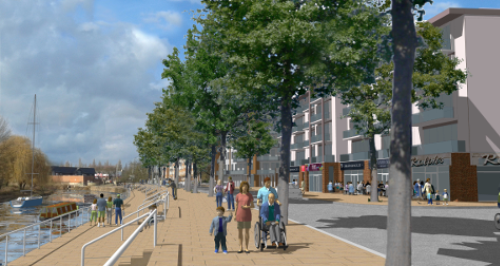 Major plans to redevelop the Blackfriars area of Gloucester have moved a step nearer.
Gloucestershire's Police and Crime Commissioner Martin Surl has agreed to release the Constabulary's 230 year lease on their city centre Bearland station.
It means County Council staff can move in, paving the way for the Council's Quayside House to be demolished.
Councillor Mark Hawthorne, Leader of Gloucestershire County Council said, "This deal means we can now move forward with our plans for the Bearland block, with the Shire Hall complex forming a key part of the Blackfriars quarter of the city. The county council's presence at Shire Hall is really important for the city centre economy and this deal allows us to ensure that Shire Hall staff can be accommodated and we can freshen up the Bearland block as part of the regeneration."
Mr. Surl said, "The Blackfriars regeneration is important for Gloucester and so is maintaining a police presence in the heart of the city. Bearland stands between the historic centre and the regenerated docks and is in an optimal position from which to police the late night economy.
"I am pleased to have been able to agree a deal whereby I have released the county council from the lease. It is a solution that suits all parties concerned and the public as well. Maintaining a high profile in Bearland should reassure people who live and work in the centre".
The Constabulary's response and neighbourhood teams, that were based at Bearland, have been reshaped and redeployed to Bamfurlong and Barton Street respectively.