Gloucestershire: Fall In People Held Under Mental Health Laws
11 May 2015, 15:33 | Updated: 11 May 2015, 15:39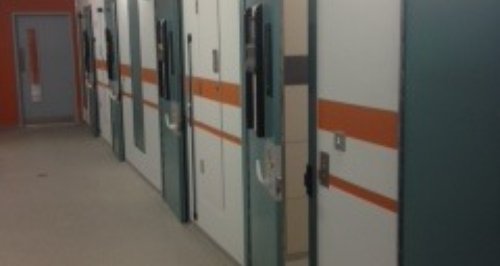 Gloucestershire Police say they are detaining fewer people in police cells under the Mental Health Act.
Figures show numbers have dropped by 51% in the past year, placing the force third in the country when it comes to low custody numbers for those detained under the act.
They are putting it down to better working with other agencies to make sure people are getting the right support, rather than just being locked up.
Detective Chief Inspector Steve Bean, from the force's public protection bureau, said: "Mental health is something that we take really seriously.
"We know that one in four people will suffer the effects at some point in their lifetime, and it's been estimated that 50% of people coming into contact with police will have some form of mental health issue.
"Occasionally the police will need to intervene to protect people at times of crisis, for their own or others safety.
"We need people to feel reassured that if there is a need for police involvement then they will be dealt with in a sensitive and compassionate way. It's very much a health matter, and the last thing we would want is for people to feel stigmatised or that that they were being treated like criminals.
"Through multi-agency arrangements such as the Mental health Crisis Care Concordat and the county's Mental Health and Wellbeing Partnership, significant progress is being made on how we tackle the issues.
"Gloucestershire has also been recognised nationally as leading the way and was actually the first in the country to 'go green' with the Crisis Concordat, receiving a letter of appreciation from Norman Lamb MP, the Minister of State for Care & Support..
"In addition, the Constabulary has implemented an extensive awareness raising campaign on mental health issues, not just in terms of enhancing our service to the community, but also internally in terms of the mental health and wellbeing of our own officers and staff.
"People working in the emergency services are four times more likely to suffer mental health issues than the general population, due to factors such as stress and pressure, the intense and often traumatic working environment, emotional resilience and shift work.
"We're very conscious of that and are taking active steps to address this. We have regular mental health screening of staff, a retained mental health nurse and psychiatrist, access to support services and confidential counselling, and have recently undertaken an extensive staff survey to assess psychological wellbeing and identify any emerging issues.
"Traditionally it's been something that people have shied away from and been reluctant to talk about, but the reality is that mental health issues can affect people from all different backgrounds and walks of life - it's something that touches all of us. We all need to work together to improve things, reduce stigma and discrimination, and get it out in the open."
Fin dout more about Mental Health Awareness Week here.