Gloucestershire's biggest drug ring sentenced
21 May 2019, 16:50 | Updated: 21 May 2019, 16:56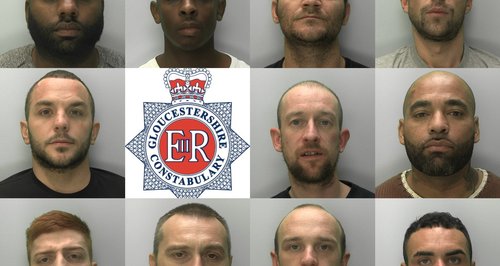 11 men have been sentenced for their part in bringing a huge quantity of cocaine into Gloucestershire.
Gloucestershire Police say the men were arrested in November 2018, after they seized two kilograms of the Class A drug, and found evidence of a further 24kg having existed.
This is valued at an estimated one million pounds, although officers say its street value could have been far higher.
Officers believed that the organised crime group responsible for the conspiracy was being led by 34-year-old Andrew Venna of Partridge Close in Gloucester and supported by 34-year-old Matthew Cornwall of Discovery Road in Gloucester.
Venna was sentenced to 12 years and nine months, including another sentence of nine years which will run concurrently and Cornwall was sentenced to 10 years, including another two sentences of 8 years and 9 years which will also run concurrently.
The conspiracy involved London men 39-year-old Granit Nanushi and 28-year-old Orsid Cela, who were sentenced to eight years and three years respectively for co-ordinating the supply of the drugs to Venna and Cornwall.
It's believed that the drugs were then sold to Stroud based Aaron Baker, 31 and of The Bridle who would store and distribute the drugs to a small number of men. He was sentenced to seven years and three months.
Daniel Payne, 22 and of Moseley Crescent in Stroud, James Dawkins, 39 and of Butterrow Hill in Stroud, Ryan Reese, 24 and of Finlay Road in Gloucester and Paul Reeves, 28 and of Lodgemore Lane in Stroud were sentenced after pleading guilty to receiving the drugs before selling them locally.
They received sentences of three years and six months, six years and nine months, one year and nine months and four years respectively.
Leroy Slater, 39 and of Wellington Street in Gloucester was sentenced to nine years and two months after 1/4 kilograms of cocaine were found on his possession last year and Edward Bell, 44 and of Badminton Road in Gloucester was sentenced to three years after being found to be the drug tester of the group.
Detective Inspector Ian Fletcher said: "They were the main suppliers of drugs into the county, at the time they were bringing the drugs into the county every ten to fourteen days. They would literally buy it in bulk, cut it down very quickly and then pass it on to sub-dealers who passed it on to street dealers beyond that.
"We actually think Andrew Venna thought he was untouchable, there was a suggestion from the community that he was almost giving consultancy to other drug dealers, advising them about how to be a better drug dealer. He thought he was so good the police would never capture him.
"I think this investigation has shown no-one is untouchable. Everyone will get caught."
Gloucestershire police say as part of this investigation a sawn off shotgun was recovered in a garage block. They were not able to link this to any of the men but want anyone with information regarding the use or ownership of the firearm to contact police by calling 101 or using the anonymous Crimestoppers number 0800 555 111.