New all-terrain vehicles for Gloucestershire Police
5 July 2018, 16:21 | Updated: 5 July 2018, 16:25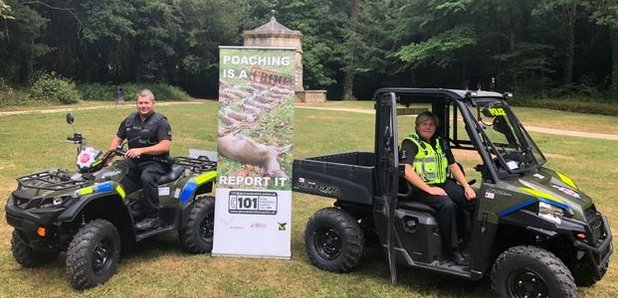 Gloucestershire Police have two new all-terrain vehicles to help them fight crime in the countryside.
The vehicles, a Polaris Ranger off road buggy and a Suzuki King Quad 4x4, are on loan to the force and will allow them to reach areas which are otherwise difficult to access and stop poachers and other offenders.
Inspector Karen Ellis: "We are very grateful to Cotswold Farm Machinery, Logic and Ace ATV for the loan of these high powered vehicles and equipment to help our fight against rural crime.
"They are already in service and our rural crime officers are being trained to use them off-road so they will be available anywhere in the county as required.
"We are confident that they will make a significant difference to our ability to catch offenders and put a stop to the crimes they are committing, including poaching of deer and fish, hare coursing, illegal off-road motor and quad bike racing as well as rural burglary and the theft of agricultural machinery.
"We will be able to go anywhere, during any weather conditions, and this greatly improves our chances of catching criminals red-handed, especially during this year's anti hare coursing operations throughout the summer.
"The vehicles could also be used to help locate missing vulnerable people in remote locations."
Martin Surl, Police and Crime Commissioner for Gloucestershire, said: ''Policing a county as diverse as Gloucestershire requires different approaches to getting officers where they need to be.
''Fighting rural crime is a key part of my Police and Crime Plan and the Constabulary's Neighbourhood Policing strategy, as so many communities are rural and deeply affected by offending in their area.
''Taking the larger vehicles deeper in to rural areas isn't always possible, so having these two off-roaders makes perfect sense.
''Officers will be able to get to those hard-to-reach places much quicker and more effectively, to bring offenders to justice, find and collect evidence and help victims.''