John Lewis 'Confident' About Cheltenham
23 August 2018, 10:55 | Updated: 23 August 2018, 11:58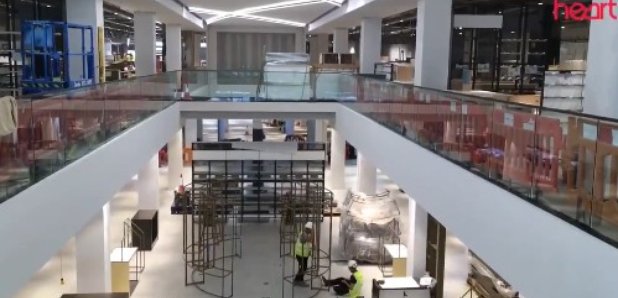 It's been a tough summer on the high street for lots of retailers. But John Lewis have told Heart they are 'really confident' about their new store in Cheltenham, opening in October.
Heart's been given a sneak peak at the new @johnlewisretail store in #Cheltenham. It's been built where the old Beechwood shopping centre was and will open this October #HeartNews pic.twitter.com/kYcxv8jjG6

— Gloucestershire News (@HeartGlosNews) 22 August 2018
John Lewis have spent £23m building the new store on the site of the old Beechwood Shopping Centre, which closed in 2016.
It was originally expected to open in 2017, but it is now going to start serving customers on Thursday 18th October.
New store manager Martin Bundy told Heart: "So, it's been a long time coming, and I'm sure the locals of Cheltenham will echo that. The project itself has been going on 4 or 5 years..it's been a long term ambition for [John Lewis] to get into this catchment.
"I believe it's a really fascinating high street, we think it's a really busy high street. There's obviously so much more that Cheltenham has to offer, it's not just a retail destination. Everything we do in partnership with the festivals and the local community, we really want to be a part of as well."
"We're laying on a space, The Discovery Room, where local community groups, charities, local businesses...could use it for a multitude of purposes. That's a blank canvas and we're looking for ideas to use that space, and we encourage local people to approach us."
Contractors are expected to formally hand the keys over to John Lewis in late September.
Some Facts and Figures:
· Used over 90,000 metres of cable – more than sixteen times the length of the Gold Cup race at Cheltenham Racecourse
· Laid over 22,500 ceramic tiles - which if laid end-to-end, it would be enough to tile the perimeter of Montpellier Gardens twice
· Used more than 6000 metres of covering for electric wiring – enough to stretch from Cheltenham Town Hall to Cheltenham Spa railway station and back again