Gloucester: University Plans To Expand Oxstalls Campus
27 March 2015, 04:00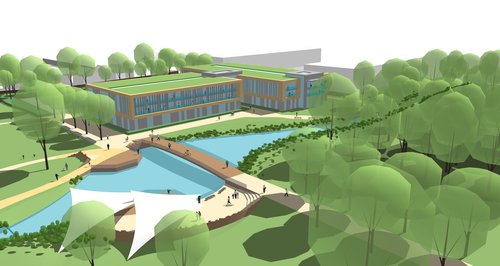 The University of Gloucestershire has announced ambitious plans to expand it's Oxstalls campus in Gloucester.
It includes relocating the University's Business School from the Park Campus in Cheltenham.
The University also wants to work with the City and County Councils to expand the sporting facilities available on Oxstalls Campus including Plock Court playing fields, the school playing fields at Bishops College, Debenhams Playing Fields and Estcourt Park Allotments
Vice-Chancellor Stephen Marston said: "As a University we are committed to supporting the growth and wellbeing of the City of Gloucester. The University has a thriving campus at Oxstalls, with a wide range of teaching, research, knowledge exchange and sporting activities. But there is huge potential to do more in the interests of the City and the County, as well as our students and staff. We know that by attracting more students to the City and improving our services to local businesses, we can make a greater contribution to economic growth.
"Creating a new and expanded home for our Business School, integrated with The Growth Hub, in Gloucester would transform our ability to give our students an outstanding experience and to work with our partners to support business. Our plans to grow our Oxstalls Campus complement the recent announcements by the City and County Councils for the redevelopment of the Blackfriars/Quayside site in Gloucester, which could include new student accommodation. We are excited by the opportunities, and look forward to working with the Councils, the LEP, local residents and the wider community to turn the vision into reality."