Gloucester: Life For Hollie Killer
16 July 2014, 11:59 | Updated: 17 July 2014, 16:46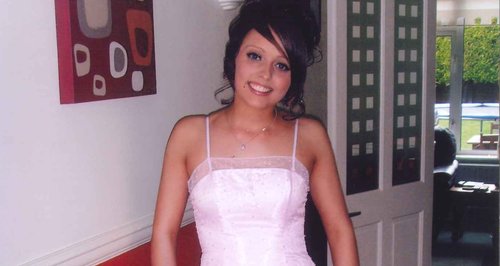 The former boyfriend of Gloucester hairdresser, Hollie Gazzard, who admitted stabbing her to death, has been handed life in jail and been told he will serve at least 24 years.
22-year-old Asher Thomas Maslin from Cheltenham pleaded guilty at Bristol Crown Court in June to stabbing Hollie to death at the Fringe Benefits salon where she worked in February.
Having cornered her at the reception of the salon, the former security guard stabbed her 14 times with a £3.00 Wilkinson's carving knife he had bought earlier, as staff and customers tried to protect her.
The attack came after the 20-year-old had broken off their relationship.
Senior Investigating Officer Detective Chief Inspector Steve Bean, from Gloucestershire police, said:
"This horrific and violent attack was a spiteful and cowardly reaction by a self-obsessed individual who couldn't handle rejection.
"At the heart of this though is a young woman whose life was so cruelly cut short. You only have to look at the public reaction to this to see how much Hollie was loved and admired.
"The very public nature of her death has affected a great many people right across Gloucestershire and beyond.
"On behalf the investigation team and Gloucestershire Constabulary I would like to pay a special tribute to Hollie's family who have shown immense strength, patience and dignity during a truly horrific ordeal.
"I know nothing can begin to compensate them for their loss, but I hope today's sentence will at the very least give them a sense of justice for what has happened and their unnecessary loss."
Acting District Crown Prosecutor Allie Longhorn said:
"Asher Maslin made a cold and calculated decision to kill Hollie Gazzard, a young woman who only weeks previously he had been in a relationship with.
"Ultimately, the strength of the evidence resulted in him pleading guilty to Hollie's murder and this at least spared many witnesses from having to re-live the horrific events in court.
"Domestic violence permeates all sections of our society and it is sad to see a young life ended in such a brutal way. Thousands of women and a considerable number of men in our country remain trapped in abusive relationships and this case tragically demonstrates just how dangerous such relationships can be.
"It takes incredible strength to come forward and speak out against someone you love, but victims can be assured that complaints will be taken seriously and they will be supported throughout the Prosecution process.
"The CPS will work closely with the police and, where there is sufficient evidence and it is in the public interest, will always prosecute. Nothing will compensate Hollie's family and friends for the loss they have suffered at the hands of Asher Maslin but I hope the conclusion of this case and the custodial sentence passed will bring at least a degree of comfort."
Speaking outside court, Hollie's father, Nick, said:
"We came to court... to see justice done for our beautiful daughter, grand daughter, auntie and wonderful sister, Hollie.
"We had no expectations, but total faith that the judge would do the right thing by Hollie and ensure that the outcome reflected the horrendous actions of a cowardly individual.
"We feel that the length of sentence handed down today means we finally have received justice for Hollie.''
He also paid tribute to Hollie's colleagues who witnessed the attack:
"We'd like to recognise the very brave and courageous young hairdressers who worked alongside Hollie and were subjected to this horrendous and tragic event. Our hearts go out to you all."
Maslin's sentencing was heard at Gloucester Crown Court. It is the first murder sentencing to take place in Gloucester since 1972.