"How Much!"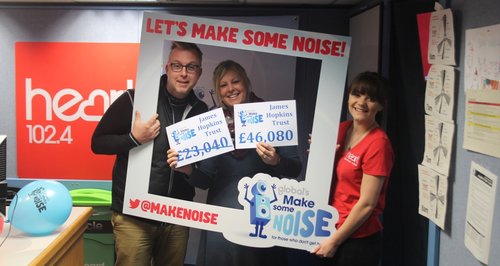 Heart Breakfast presenter Warren Moore has surprised and delighted Sarah James,
 Head of Fundraising at James Hopkins Trust, with a mammoth cheque for £46,080!
The James Hopkins Trust provides practical help for life threatening and life limited young children, aged 5 and under, with nursing needs here in Gloucestershire.
They had already been informed they would be receiving a grant from the radio station's charity appeal, Global's Make Some Noise, to fund respite nursing sessions for 6 months.
However, Sarah was shocked and totally thrilled to actually receive double the amount they were expecting bringing the total to £46,080. Watch the moment she opened the envelope containing the total below.
Sarah James, Head of Fundraising at James Hopkins Trust went on to say: "The impact this donation will have on us is enormous and makes a tangible difference to the families we support.
The relationship with Heart and Global's Make Some Noise has meant we have been able to shout loud and proud about our work, reaching many more people than we would ever have been able to do without your involvement!
Our families have been delighted to be able to share their experiences on the radio, whilst the children have loved making pizza for the appeal and visiting the Heart's studios to record their interviews and meet the team."
Find out more about James Hopkins Trust here.
Global's Make Some Noise unites all Global's radio brands, including Heart, Capital, Capital XTRA, Radio X, Classic FM, LBC, Smooth and Gold, which reach 24.1 million listeners every week.
Grants from the annual fundraising activities are awarded to projects across the UK that help disadvantaged youngsters living with illness, disability or lack of opportunity.
Make Some Noise also gives a voice to these small charities and projects across the UK that struggle to raise awareness, as they are often operating on a shoestring or tackling an issue that is not well understood.