Police Sniff Out Harlow Cannabis Factory
9 June 2015, 12:08 | Updated: 9 June 2015, 13:04
Police have sniffed out a cannabis factory in Harlow.
About 60 mature cannabis plants were found on land in the Fern Hill area of Harlow at about 3.50pm on Monday, June 8.
The street value was worth thousands of pounds.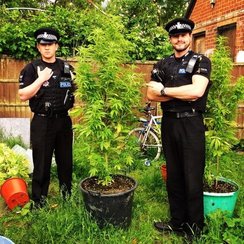 Insp Paul Maleary, neighbourhood policing inspector for Harlow, said: "I and the local neighbourhood policing team were undertaking our regular patrols in the area when we noticed the smell of cannabis.
"It was then we discovered the plants."
The plants were seized and enquiries are ongoing.
Anyone with information can contact Essex Police on 101 or contact Crimestoppers on 0800 555111.