45 Injured In Hertfordshire Bus Crash
20 October 2014, 13:17 | Updated: 20 October 2014, 14:20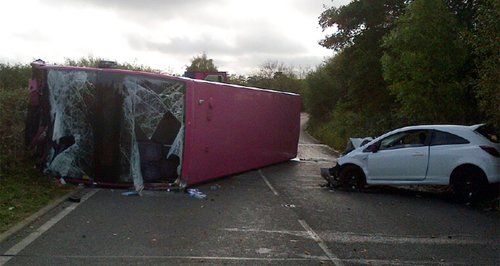 Forty-five patients needed medical treatment today after a collision between a car and a coach on St Albans Road near Barnet.
Ambulance crews were called to the scene of the crash at 8.24am and treated 87 patients.
Eight people were taken to hospital by ambulance, seven to Barnet Hospital and one to the Lister, who were suffering from suspected head, neck, and other traumatic injuries.
They aren't thought to be critically injured at this time.
A further 37 patients, who had minor injuries like cuts and bruises, were taken by coach to the minor injury unit Queen Elizabeth Hospital for further treatment.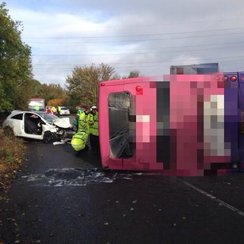 A further 42 non-injured people were discharged at the scene.
A number of people involved in the incident are believed to be students from the University of Hertfordshire.
Arrest Made.
A man has since been arrested on suspicion of causing injury through dangerous driving.
A spokesperson for the University said: "The University of Hertfordshire is aware that a number of students were travelling on an UNO bus involved in a road traffic incident this morning on the A1081 in Barnet.
Members of the university community are being supported by the Office of Dean of Students."
A spokesperson for Hertfordshire Police said: "Police were called at 8.24am today to St Albans Road in Barnet to reports of a collision involving a bus and a car.
The double-decker bus overturned and a number of people on-board have been injured.
The driver of the white Vauxhall Corsa, a 40 year old woman, was also injured.
Eight people, including the driver of the Vauxhall, have received serious injuries and have been taken either to Barnet or Lister Hospital.
Thirty-seven other people who were on the bus have received minor injuries and have been taken to the Queen Elizabeth II Hospital in Welwyn Garden City.
The ambulance service and fire service are also in attendance and the road has been closed to allow emergency services to deal at the scene.
We would ask people to avoid the area at this time.
A 41 year old man has been arrested on suspicion of causing serious injury by dangerous driving."