Free hair cuts in Watford with a gamble chat
18 May 2019, 10:15 | Updated: 18 May 2019, 10:23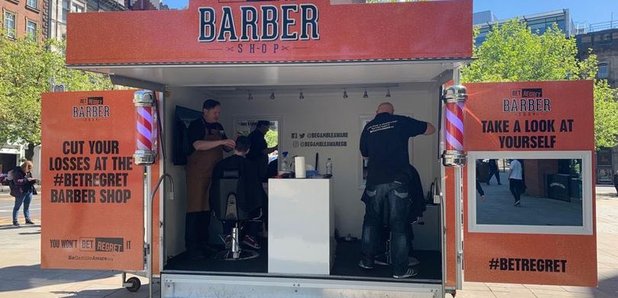 The charity tasked with reducing gambling harms in Britain, Gamble Aware, are in Watford today ahead of this afternoon's FA Cup Final at Wembley - offering FREE hair-cuts.
But the charity says this isn't any regular barbershop.
Inside are top of the range barbers, trained in discussing Bet Regret and raising awareness about the risks of placing impulsive bets.
These bets are often placed whilst chasing losses, drunk or bored.
The Bet Regret Barbershop will now travel to venues with a large number of sports bettors, including sporting events, university campuses and city centres, talking to sports fans about Bet Regret.
Multiple universities will host the barbershop truck as research for the Gambling Commission found that two in three students gamble, whilst another study has shown 67% of younger male sports bettors agree that it is easy to get drawn into risky betting behaviour – the kind of behaviour highlighted in the Bet Regret campaign.
As well as being sports fans, research has found that 92% of this group also attend the barbers at least once a month and it is an environment where men feel comfortable to have open discussions. On the tour, experienced barbers will encourage young male sports fans who bet to learn more about Bet Regret and reflect on their own betting behaviours while receiving a free haircut.
'Bet Regret' is the sinking feeling bettors get when they make an impulsive bet that they know they shouldn't have, the kind of bet that bettors say they will know they will kick themselves for the moment they made it.