Hertfordshire Firefighters Strike Sept 2013
25 September 2013, 17:48 | Updated: 25 September 2013, 18:44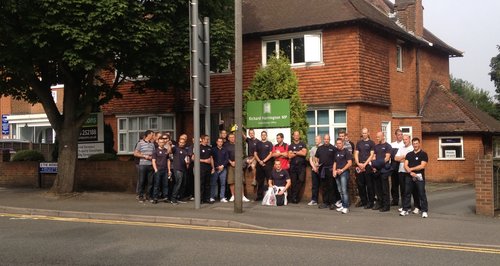 Around 30 firefighters from Watford, Rickmansworth and Garston joined in the four hour national strike.
They walked from Watford fire station on Lower High Street, through the town centre and to MP Richard Harrington's office
Along the way they spoke to shoppers and handed out leaflets explaining why they're on strike.
A lot of people showed interest and said they supported the industrial action
Richard Harrington wasn't at his office when the firemen arrived but he left them a letter:
"Thank you for taking the time to make presentations to my office today. I am sorry I was not able to meet you in person, had I been aware in advance that you had intended to visit my office I would have made arrangements to meet you here.
"May I firstly thank you for your continued hard work and dedication in performing your jobs, often in very difficult circumstances and please be assured, that I appreciate that you feel very strongly about the issues on which you are striking today.
"I have met with or corresponded with many Fire Fighters in Watford on these issues of pensions, conditions and working ages and your arguments have not fallen on deaf ears. I have made representations on your behalf to the Government and I have also previously arranged for a meeting with Fire Fighters from Watford with the then Minister, Bob Neill MP, during which the Fire Fighters were able to put across their arguments face to face.
"Whilst not possible today, I would be more than happy to meet again in Watford to hear and discuss your points of view. My office will speak with you today to arrange a meeting as soon as possible.
"Changes to pensions and conditions have been necessary in light of very difficult financial circumstances the Government have inherited and in the face of wider changes to pensions and meeting the needs of an ageing population. The Government have endeavoured to make the changes as fair as possible and as reflective as possible of the unique needs and challenges of the service you provide.
"I hope that we can meet again soon to discuss this and any other concerns that you may have."