Herts Artist Brightens Watford Underpass
26 October 2016, 06:00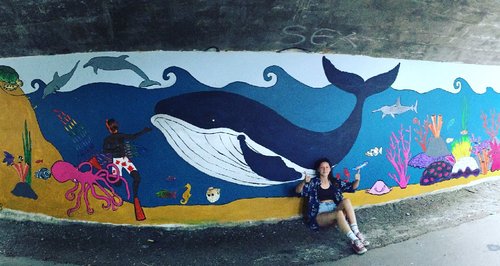 A graffiti strewn subway between Rickmansworth and Watford's been given a watery makeover
Talented young artist, Kate O'Brien recently had a "whale" of a time when she transformed the Ebury Way subway into a sea-life work of art.
Kate, 25, contacted Hertfordshire County Council to ask if she could paint a mural and Terry Douris, Cabinet Member for Highways, said:
"We were so impressed with Kate's designs and thought it was a wonderful idea. It's an excellent example of a group of young people giving back to the county and taking pride in the area. They should be very proud of their achievements."
The work took Kate and her team of six creative friends just two days to complete. Anti-graffiti coating has been applied to ensure the work is protected so everyone can enjoy the mural.
Kate said:
"I chose Ebury Way as it is one of my favourite walks. It's something I've always wanted to do and thought it would be nice for other people who walk or cycle along it. Once the permit was issued and the barriers were put in place we couldn't wait to get started and with some serious girl power and paints we brightened the place up in just two days."
Hertfordshire County Council says:
"These particular works have to be granted under special permission and facilitated by Hertfordshire County Council and its highways contractor, Ringway but we are always interested to hear ideas on how people can contribute or help to improve their neighbourhood. We know that those closest to the issue often come up with the best solution.
As part of Hertfordshire Year of Volunteering, the Council has launched a number of ways for people who love the outdoors and want to make a positive difference to their local environment to get involved.
If you are interested in walking, off-road cycling or horse riding and would like to help us manage and maintain our footpaths, cycle tracks and bridleways to a high standard, simply get in touch. Find out how to join our ever growing network of volunteers and benefit from our award-winning approach to training and support."