Man Convicted Of Watford Manslaughter
17 May 2017, 16:17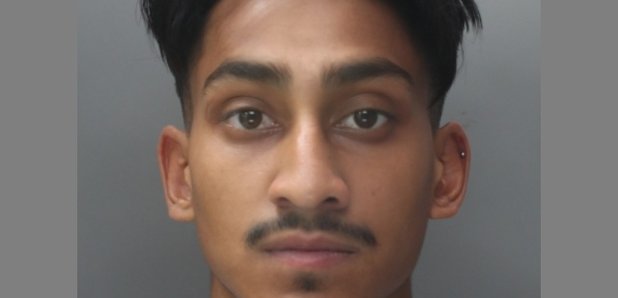 A man has today (Wednesday, May 17) been convicted of the manslaughter of 21 year old Bradley Cresswell.
Bradley suffered a fatal brain injury when he was assaulted in an unprovoked and unexpected attack in Watford town centre during an altercation between two groups at the end of a night out.
Today, at London's Old Bailey, Ridwaan Shaikh (pictured), aged 22, of Ilford, was found guilty by a jury of manslaughter.
On the evening of Saturday, September 17 last year, Bradley and his friends went to Hydeout Nightclub in Watford town centre.
Inside the club, Bradley first came into contact with Shaikh. The court heard that Shaikh had consumed a considerable amount of alcohol and had been smoking cannabis.
He was described by the prosecution as appearing to be in 'a volatile, aggressive frame of mind'.
CCTV shows that during the evening Shaikh had to be restrained from fighting with an unknown man in the smoking area.
It is believed that Shaikh and Bradley were involved in an altercation inside the club. CCTV from the night shows Shaikh staring intently at Bradley as he walked past him in the club.
At closing time, in the early hours of Sunday, September 18, there was a further altercation when at least one of Shaikh's friends was knocked to the floor by one of Bradley's friends.
After leaving the nightclub Bradley became separated from his group and went to meet other friends in Bentine Lane.
They were talking there when Shaikh approached Bradley and, without warning, punched him knocking him unconscious. He then attempted to hit Bradley again while he was on the ground but missed and walked away.
Bradley regained consciousness but around 40 minutes later members of the two groups encountered each other again in The Parade and there was a heated verbal exchange between various parties. This was when Shaikh attacked Bradley once again delivering the fatal blow.
Bradley, who lived with his family in South Oxhey, suffered a bleed on his brain and was rushed to Watford General Hospital. He never regained consciousness and tragically passed away.
Inspector Pushpa Guild from the Bedfordshire, Cambridgeshire and Hertfordshire Major Crime Unit, said: "Shaikh was intent on exacting revenge on Bradley that morning following his interaction with Bradley in the nightclub.
"Neither were known to each other and Shaikh was not local to the Watford area however, having knocked Bradley unconscious on the first occasion, he was determined to pursue Bradley and waited for an opportune moment before cowardly striking the fatal punch, which led to Bradley's death and resulted in Shaikh being charged with murder.
"Following a three week trial a jury of his peers has considered the evidence and found Shaikh guilty of manslaughter.
"I hope that Bradley's family will draw some comfort from this outcome."
Inspector Nick Lillitou from the Watford Safer Neighbourhood Team, said: "The events of Sunday, September 18 were completely unnecessary and resulted in the tragic death of Bradley, who was just 21 years old.
"We work closely with pubs and clubs, Watford Borough Council and other partners to ensure that the town centre is as safe as possible for people who are simply enjoying a night out.
"Thankfully, incidents as serious as this are unusual and we will continue to do all we can to apprehend and bring to justice those who cause violence in Watford town centre."