New Drive To Clear Knives From Herts Streets
17 October 2016, 06:00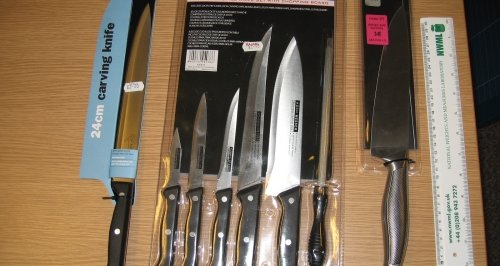 Hertfordshire Constabulary is taking part in the national drive to rid the UK's streets of knives.
Operation Sceptre will run between Monday October 17 and Sunday October 23, during which members of the public will be encouraged to surrender any unwanted knives in their possession to the police.

Hertfordshire remains one of the safest counties in the country and has little knife crime.
However, there has been a small increase in knife related crime in the county this year and the amnesty is being carried out in support of the national campaign and to highlight the dangers of carrying knives.
The amnesty also provides an opportunity to give crime prevention advice and raise awareness amongst local businesses that selling certain knives to anyone under 18 is illegal.
Surrender Knives Anonymously
If you have a knife in your possession that you do not want or should not have, and would like to surrender it, you can bring it to one of the following police stations: Hatfield, Stevenage or Watford.
During the amnesty you can surrender knives anonymously by placing them in the knife bins located with the station reception areas.
The locations and opening times of these stations can be found at www.herts.police.uk

Members of the public can surrender any knives, anonymously and without fear of prosecution for possession of these items.

Police and Crime Commissioner David Lloyd said:
"I'm delighted that we are playing our part in this national campaign to reduce the number of knives in the county, which will help to make Hertfordshire and neighbouring counties even safer. Fortunately, knife related incidents are uncommon in the county, but as part of the wider crime prevention and reduction campaigns we run in Hertfordshire, this can only contribute to making the county safer and continue to keep this type of crime low"

Assistant Chief Constable Michelle Dunn:
"There is very little knife crime in Hertfordshire, but this campaign can only help to make the county even safer as any knife being carried on the streets is one too many.

This campaign gives us the opportunity to raise awareness that carrying knives is illegal and does not make you safer, in fact if you carry a knife you are more likely to be injured or become involved in a violent incident."