'Spoons Staff Get Pay Rise As Boss Rests
7 November 2018, 12:42 | Updated: 7 November 2018, 12:47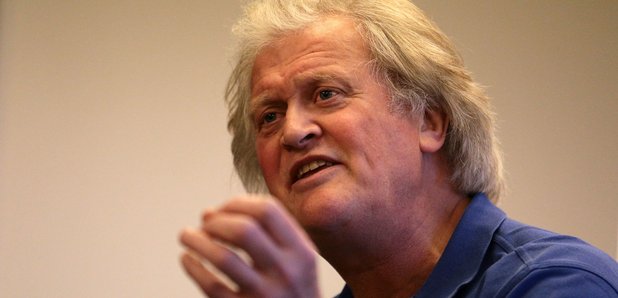 Mixed news today for staff at the Watford head-office of pub-chain at Wetherspoons they've been told their chairman's going part-time due to a health-scare, but, they've been given a pay rise.
Tim Martin's revealed he's undergone emergency surgery for a burst appendix and would stay at home for several weeks.

Mr Martin also says after a strike last month - they'll be increasing staff wages.

READ MORE:-

One of the country's most prominent Brexit-supporting business leaders has revealed a personal "health scare" and announced a pay rise for staff following a recent strike.

Tim Martin, chairman of pub group J D Wetherspoon, said he had undergone an emergency operation for a burst appendix and would stay at home for "several weeks".

Shares in JD Wetherspoon dropped today (Wednesday 7th Nov) as the pub group hinted at weaker annual performance and chairman Tim Martin revealed he would be temporarily working part-time after a health scare.

The share price was down 9.5% before lunchtime as investors absorbed a first-quarter trading update in which the chain said like-for-like sales increased by 5.5% and total sales were up 6.2%.

Despite strong growth, Mr Martin said the company was dealing with tough comparatives, having delivered several years of record profits.

"It is difficult to be too precise at this early stage of the current financial year but we now expect a trading outcome slightly below that achieved in the previous financial year," he said

"We will provide further updates on our trading as we progress through the year."
PAY RISE AFTE RSTRIKE
Mr Martin also revealed he has been recovering from an operation after a burst appendix so will be working part-time from home for "several weeks".

Senior independent director Liz McMeikan will chair the general meeting next week in his absence.

The group also said it is increasing staff wages in response to record levels of unemployment.

The move follows a strike by a small number of staff last month.

Wetherspoon's will not initially raise prices to cover the increase but could later revise this.

"Having had several recent years of record profits we are not immediately seeking to recoup these increased costs through higher pricing or 'mitigation' but will review that during the year," said Mr Martin.

The company has opened two new pubs in the first quarter and has closed or sold three.

It guided new openings of between five and 10 pubs in the current financial year.

Mr Martin also reiterated his belief in the trading statement that the UK should adopt free trade after Brexit.