Watford's Wetherspoons Pays Compensation To Travellers Turned Away
30 May 2015, 06:59 | Updated: 30 May 2015, 07:08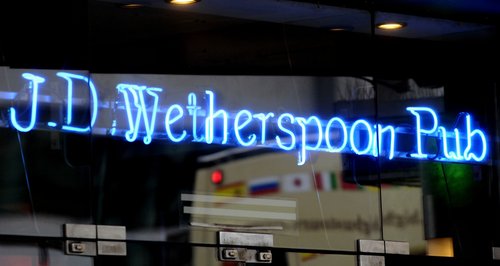 The boss of Watford based Wetherspoon's promised to "learn from mistakes" after a second pay out for one pub turning away travellers.
Earlier this month delegates at an annual conference for Irish travellers were awarded a total of #24,000 after they were refused entry to The Coronet on Holloway Road, north London, in November 2011.

Judge John Hand QC at Central London County Court ruled that pub manager David Leach, who has since died, made ''stereotypical assumptions'' about Irish travellers and Romany gypsies.

He said his actions were contrary to the Equality Act 2010 and awarded #3,000 compensation for ''injury to feelings'' to eight individual claimants turned away at the door.

Today Wetherspoon said it had admitted liability in respect of one of its pubs, The Tivoli in Cambridge, where three members of the travelling community were refused entry by door staff and a member of the pub's management team, following a funeral in the vicinity, on the grounds that they were travellers.

The company's chairman Tim Martin said: "We apologise to the three claimants for the embarrassment and distress caused to them and have offered to pay damages to each of them as well as legal costs.

"There was no intention by the company to discriminate against these individuals.

"This is the second legal case involving Wetherspoon and the travelling community in the past month in which discrimination has been established. The first case, concerning The Coronet in north London, related to an incident in 2011 and The Tivoli incident occurred this February.

"These are the only two cases brought against the company by the travelling community for discrimination since Wetherspoon was founded in 1979.

"We reiterate that there was no malice intended by the company in either case and Wetherspoon did not have a discriminatory motive.

"Our pubs serve more than two million customers each week and unfortunately errors by our staff do occur on occasion, notwithstanding our commitment to equal treatment of all customers and staff and the training we provide in this area.
"We will be redoubling our efforts to ensure that we, as a company, and our staff, learn from these mistakes.''

Solicitors Howe & Co, of Brentford, west London, has represented the travellers in both cases. It said the three claimants had been offered £3,500 each.

Martin Howe, partner at the law firm, said: "Pubs, clubs, restaurants, shops and all those who provide services to the public need to learn that it is no longer acceptable to make stereotypical assumptions about Irish travellers and Romany gypsies.

"Racial stereotyping, that is only too prevalent, is repugnant and unlawful.

"It seems that Wetherspoon has a problem they must get to grips with very urgently. Those who continue to treat travellers less favourably than they would treat others will face the legal consequences of paying out large sums in compensation, paying costs and suffering serious damage to their reputations. The last bastion of 'acceptable racism' is dead.'