Animal Charity Wants Harsher Punishments
20 February 2017, 11:28 | Updated: 20 February 2017, 11:29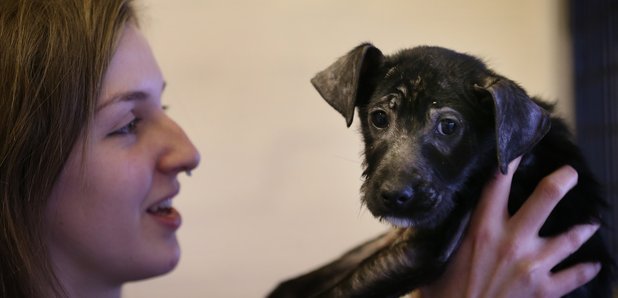 Battersea Dogs & Cats Home, which has a rescue centre in Brands Hatch, has today (20 Feb) launched a major campaign calling for tougher punishments for people who seriously abuse animals.
The maximum sentence for even the most extreme cases of animal cruelty in England and Wales is just six months in prison - the lowest across Europe, the United States and Australia.
The animal charity wants to see this raised to five years.

Battersea's campaign for tougher penalties was launched in Westminster today by its Chief Executive, Claire Horton, who said:
"Battersea's research into extreme animal cruelty tells us the sentences handed out are actually no punishment at all. We and many other rescue centres see shocking cases of cruelty and neglect come through our gates and there are many more that are dumped and don't even make it off the streets. These are the dogs and cats we're speaking out for today.

"We looked at 100 different jurisdictions across the world and England and Wales' maximum six-month sentence is the lowest, lagging far behind countries like Ireland at five years and Germany at three years. It would be laughable if it weren't so shocking."

Last year a London man admitted torturing and killing nine puppies after local vets became suspicious and raised the alarm. He had beaten, stabbed and sprayed bleach in the puppies' eyes. The strangled body of another was found in a bin. After an RSPCA investigation, he received the maximum sentence possible - just six months in prison.

In another case, two brothers from Teesside admitted animal cruelty after they were filmed beating their pet Bulldog and throwing her down a flight of stairs. The Bulldog died from her injuries but they walked free from court with a suspended sentence of 21 weeks.

Claire Horton continued: "It isn't acceptable that our courts are unable to hand out tougher sentences in such extreme animal cruelty cases, yet the likes of fly-tipping can result in prison sentences of up to five years. So let's get this into proportion and let the punishment for abusing animals truly fit the crime."

Battersea and other animal welfare charities care for such victims of wilful cruelty and neglect, with some making remarkable recoveries under the care of the charity's Veterinary team.
These include Twinkle, a dog found outside Battersea Brands Hatch on a freezing cold night in 2013. Her owner was caught on CCTV tying her to the bars of the gates, but Twinkle was fortunately rescued before she was crushed to death by the gates. The Lurcher was found severely underweight and emaciated and needed lots of veterinary treatment to recover.

Recently, there was also Tiger, a tabby cat, who was brought into Brands Hatch this January, where the Veterinary team discovered he had been shot in the head at close range with an air gun. Two metal pellets were found lodged in his skull and, had they been any closer to his brain, would have proved fatal. During delicate surgery, Battersea's vets were able to carefully remove the pellets without causing further damage and Tiger has now recovered.

Anna Hemmings, Centre Manager at Brands Hatch, added: "For every abused dog or cat like Twinkle and Tiger we can help, there are many more we'll never get to see. A few weeks in prison or walking free from court with a fine isn't enough, either as a punishment or a deterrent. It's time to stand up for such animals and bring in tougher sentences."