Beluga Whale Spotted In Kent For Second Day
26 September 2018, 18:21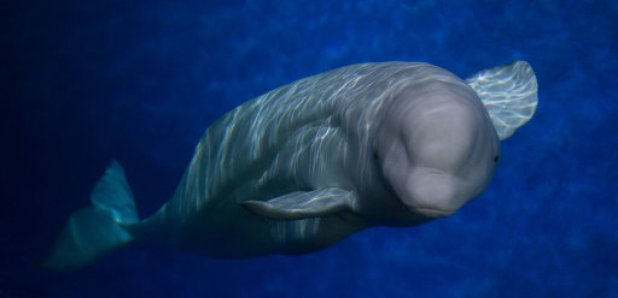 The RSPCA, which is monitoring the marine mammal, said there are no major concerns for its welfare.
The whale was first seen near Gravesend, Kent, on Tuesday, and has been spotted in the same area again on Wednesday (26 September).
Rescue teams have been on standby in case.
The whale is normally found thousands of miles away in the Arctic.
Conservationists have said they hoped its instincts would soon kick in, and it would back north.
Beluga whales can grow up to 20ft in length and are usually at home in the icy waters around Greenland, Svalbard or the Barents Sea.
The RSPCA said:
"The whale is still in the Thames estuary, in roughly the same area off Gravesend as yesterday.
"We want to ensure it is given the best chance of survival - and that means returning to the sea under its own steam.
"Following our request to the London Coastguard, we are pleased that local boats have moved away.
"Whales have acute hearing and become stressed very easily. "
The whale was first spotted on Tuesday by ecologist Dave Andrews, who tweeted footage of the white animal.
Can't believe I'm writing this, no joke - BELUGA in the Thames off Coalhouse Fort @RareBirdAlertUK pic.twitter.com/6VtrJ1PVc6

— Dave Andrews (@iPterodroma) 25 September 2018
The last reported sighting of beluga in UK waters was in 2015.
Two were spotted off the Northumberland coast and one in Northern Ireland.