Bronze Geoffrey Chaucer Statue being unveiled In Canterbury
12 October 2016, 11:46 | Updated: 12 October 2016, 12:40
A large bronze statue of Geoffrey Chaucer is being unveiled along Canterbury High Street to commemorate his association with the area after a 10 year project.
A large bronze statue of Geoffrey Chaucer is to be unveiled along Canterbury High Street later this morning to commemorate his association with the area after a 10 year project.
The two metre high sculpture has been created by Kent sculptor Sam Holland after donations were collected by Canterbury Commemoration Society.
Pics from Sam Holland's workshop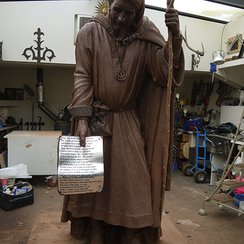 THe Canterbury Commemoration Society (CCS) has commissioned a sculpture to commemorate Geoffrey Chaucer and his association with Canterbury. On Wednesday 12th October 2016, CCS will be formally gifting the statue of Geoffrey Chaucer on a plinth to the Lord Mayor of the City of Canterbury.

"The Project to bring this sculpture of Geoffrey Chaucer into being was started some ten years ago. We now bring a major new feature to the city, a new piece of art. The sculpture is divided into two pieces as the figure and the plinth are separate creations but which fit together so well due to the cooperation of our two sculptors Sam Holland and Lynne O'Dowd". Ray Evison
The statue of Chaucer has been created by the Kent sculptor Sam Holland and the plinth by the Yorkshire based sculptor Lynne O'Dowd. The plinth depicts the characters featured in Chaucer's Prologue to the Canterbury Tales but represented by personalities with a Canterbury connection, in a re-working of Thomas Stothard's painting of the Journey to Canterbury which hangs in the Beaney Library. Anthony Pratt of the Canterbury Auction Gallery is depicted as The Knight, Orlando Bloom as The Squire, Hugo Fenwick as The Merchant and Tony Denne of Denne Corn Millers as The Miller. A full list of sponsors is attached.
The site for the sculpture is at the junction of Best Lane and the High Street in the centre of the city. The paved area around the sculpture along Best Lane and for a short distance along the High Street will be screened by barriers and attended by security personnel on the day.