Dartford: Man Jailed After Birthday Party Ended In Murder
10 April 2015, 17:25
A man has been jailed for life after a surprise birthday party ended in the murder of a mother of four from Dartford.
27-year-old Joshua Caird, from Almond Road, admitted stabbing 26-year-old Donna Eastwood (pictured) before leaving her to die in a burning car.
He entered a guilty plea to murder when he appeared at Maidstone Crown Court on Friday 10 April 2015, and was sentenced the same day to life with a minumum of 25 years in prison.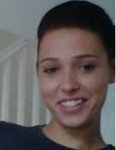 Caird and Donna, who were neighbours, were seen talking at a surprise birthday party for Caird's mother on Friday 17 October 2014.
Just after 1am Donna left the party, which had been held next door at Caird's sister's house - the last time anyone would see her alive.
A few hours later, Caird went to Donna's house and stabbed her. He then wrapped her in a tarpaulin he had retrieved from his parents' barbeque and put her into the boot of his sister's Nissan Qashqai, which he had stolen.
Caird then drove to his brother's house in Edgefield Close, Dartford. He asked his brother for help to dispose of Donna and said "She's in the car. I think I've killed her". Caird's brother ran to the car and seeing the body-shaped green tarpaulin in the boot attempted to pull Donna out of the car. Caird punched his brother several times knocking him to the ground. He then drove out of sight.
Within the space of just a few minutes, at around 5.30am on Saturday 18 October, police received three separate calls to report Caird's actions. At around 7am, Kent Fire and Rescue Service was called to a remote location in Rowhill Road, Wilmington, where a car had been found alight. They told the police that they believed there was a body in the boot.
Following the discovery of Donna's body, a 30-hour man hunt took place to find Caird, who had gone into hiding. He was found the next day in the attic of his empty house after he had broken back in.
Officers interviewed Caird for two-and-a-half hours; he sat there in silence throughout.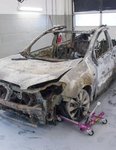 Detectives worked around the clock to piece together evidence gathered at the scene, Caird's house and at the victim's home. Investigations found that Donna had been stabbed in the back using a kitchen knife, wrapped in a tarpaulin and dumped in the boot of a car, which was driven to a remote location and set on fire. She was found lying face down with the murder weapon under her body.
Caird was subsequently charged with murder.
Donna's sister, Lisa Sheppard, issued a statement on behalf of the family. She said: "I am glad that this nightmare is now over for my family and that justice has been served. We can now work on trying to rebuild our lives.
"Donna was an amazing person who would light up a room whenever she walked into it. I miss her so much it hurts.
"I would like to thank our family and friends for supporting us through this terrible time. Life no doubt will still be hard but to know that Donna's killer is locked up is of some comfort.
"I would like to thank the police for their hard work and the community for their support.
"We now ask that we are left to grieve in peace."
Detective Inspector Ivan Beasley, of the Kent and Essex Serious Crime Directorate, said: "This was a senseless and cold-blooded attack on an innocent mother in the middle of the night. Caird had spent the evening socialising at a party with his victim, before stabbing her and leaving her to die in a burning car.
"Caird knew what he had done. He committed a vicious attack on a mother of four before cowardly hiding from the police.
"Miss Eastwood's family has been through an incredibly emotional ordeal because of Caird's actions. He killed an innocent woman in a horrific, drunken attack and continued to deny it for almost six months.
"I'd also like to take this opportunity to commend the witnesses. It took a great deal of courage to come forward and help us identify a suspect to give Miss Eastwood's family some sort of justice.
"I am pleased that Caird is now where he belongs. Today's sentence helps give Donna's family some small element of closure, but it does not change the fact that four children are now without their mother."

Nigel Pilkington, CPS South East Head of the Complex Casework Unit, said: "The fact that Joshua Caird has today finally pleaded guilty to the murder of Donna Eastwood is a testament to the overwhelming evidence we had against him, including the fact that he had confessed to two people that he had killed Donna. She was a mother with four young children and our thoughts go out to her family and friends. Now that Caird has been brought to justice, we hope they can start to rebuild their lives. We would also like to thank the witnesses in this case who came forward and supported the prosecution."