Fire Crews Warn Kent Drivers About Parking
22 April 2017, 09:40 | Updated: 22 April 2017, 10:28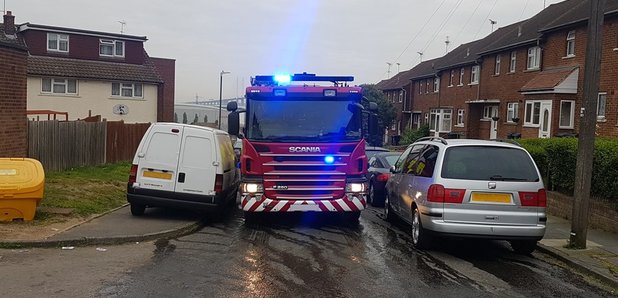 Dartford's firefighters are urging people to think before they park and consider whether a fire engine would be able to get passed.
Latest Statement from Kent Fire and Rescue Service
Kent Fire and Rescue Service's (KFRS) 999 control room received a number of calls to reports of a large shed fire in Shakespeare Road, Dartford at 6.52am this morning (Friday). Two fire engines were on the scene within minutes but had difficulty accessing the road due to inconsiderate parking in the area.
Crew manager, Neil Jones said: "We know sometimes space can be limited but please try and leave enough room for us and other emergency services to get past. In some of the narrower side streets we find vehicles are parked on junctions, making it impossible for our fire engines to turn.
"Fire engines are wide and need more space than you might think. Parking on a junction or a bend may stop us getting to where we're needed at a time when every second counts and we struggle to drive down certain roads if vehicles are not parked appropriately. Please park close to the curb and straighten the wheels of your vehicle, it can make a big difference."
Once at the property, firefighters used two high pressure hose reels to put the fire out, which destroyed the shed and spread to a number of fence panels in neighbouring gardens. Fire crews left the scene just before 7.50am.