Folkestone: Slide For Workers In Office
Managers at offices in Folkestone have installed a slide to take workers from one floor to another in just three seconds.
The 20ft-long stainless steel feature was added to create a sense of fun for staff at the Workshop offices in Kent.

The part-tubular slide is said to add to the 'Google-esque' feel of the offices - and even has a camera inside it taking pictures as people whizz down from the fifth to the fourth floor.

Catering for a range of fledgling local businesses, the five-storey digital business hub opened on September 2 - complete with novelty descent.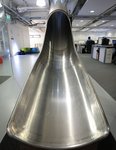 For those of an unadventurous disposition, the office still has conventional stairs and a lift for people to get from floor to floor.

Office manager James Avery, 30, said: "We are quite Google-esque and techy here, and the slide really adds to that Google feel about the place.

"Everyone has a go when they come in, but people have become accustomed to it now. No-one looks up, it's just the norm.

"We have noticed the slide being used for other purposes, such as sending down post, and even the odd bag of sugar.

"We had thought about other ideas, like installing a pole which might have been cheaper, but this is more fun."