Four-Year-Old Praised By SECAMB After Dialling 999
3 March 2018, 10:17 | Updated: 3 March 2018, 12:33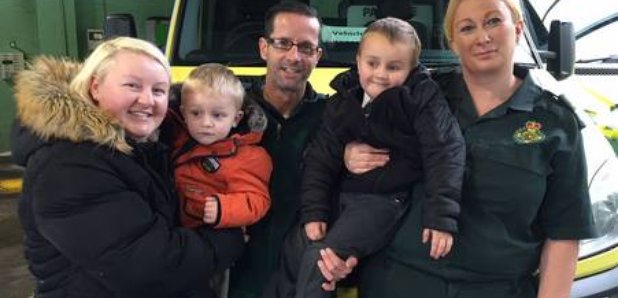 A four-year-old boy from Chatham has been recognised for his actions and quick-thinking which saw him use his mum's mobile phone to call 999 when she collapsed at home.
Harvey Parsloe initially raised the alarm for his mum, Cassandra Parsloe, by calling his dad, Daniel, who was just minutes away from the family home. But, much to everyone's surprise, Harvey also went on to call 999, by using Siri on his mum's phone, which he was unable to unlock.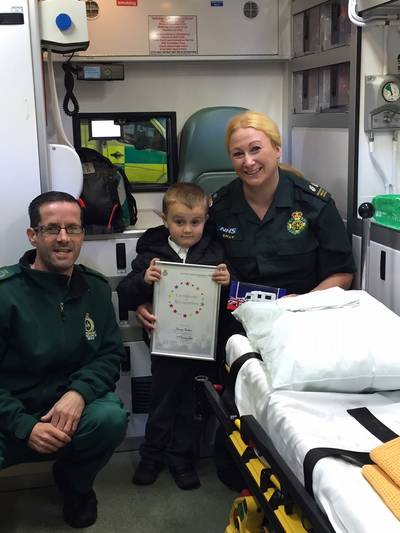 Speaking to South East Coast Ambulance Service (SECAmb) Emergency Medical Advisor (EMA) Sally Burchett, Harvey, who was at home with his one-year-old brother Louis on 17 January, described what had happened and acted beyond his years to also provide the postcode of the family home using the phonetic alphabet.
Harvey's dad was soon back home and continued to speak to Sally in the minutes before the UK Specialist Ambulance Services crew, Darren Climpson and Barbara Manktelow, working on behalf of SECAmb on the day, assessed and treated Cassandra before she was taken to Medway Maritime Hospital for further checks.
Havey and certificateHarvey was recently presented with a special achievement certificate by Sally and Darren before being shown round an ambulance at Medway Ambulance Station in Chatham.
Sally, who works out of the Trust's Crawley Emergency Operations Centre, said: "Harvey did a great job. He was amazing. He clearly answered all my questions, including, most importantly, where he lived, including telling me his postcode phonetically, which I understand he has picked up from him mum and also uncle who is a police officer. He was very brave and calm and his parents should be very proud. I was delighted to present him with his certificate which he really deserves."
Cassandra, who has recovered well but is due to have further tests added: "When I was told that Harvey had called 999 I couldn't believe it. He did such a good job looking after me and getting me the help I obviously needed. My husband and I are very proud of him and it was lovely for him to be able to go to the ambulance station to be shown round and receive his certificate."