Go Ahead For Hundreds Of New Homes
19 January 2017, 12:26 | Updated: 19 January 2017, 12:28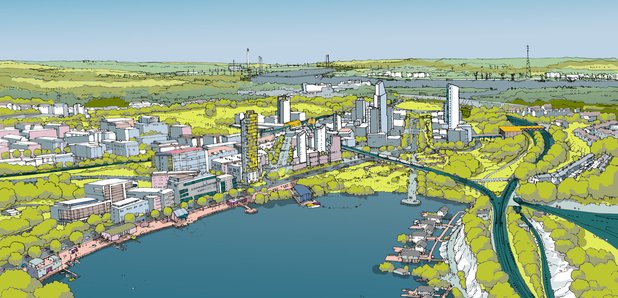 An old cement works is to be turned into more than 500 new homes as part of the Ebbsfleet Garden City.
The plans for the site, which closed in 2008 got the go ahead at a planning committee meeting last night.
The also include a new neighbourhood centre, 46,000 sq m of employment space creating up to 1,500 new jobs, food and drink outlets along the River Thames and a new riverside promenade in Northfleet.
The site forms part of the North Kent Enterprise Zone and businesses locating to the area will be eligible for incentives including business rates discounts worth up to £55,000 per year up to 2022
The plans for the former cement works also include a network of pedestrian and cycle routes and a new bridge linking the residential area to Lawn Primary School.
There will be at least 3.5 hectares of open space including the promenade, a new public park, heritage park, school playing pitch with dual community use and a multi-use games area.
Ebbsfleet Development Corporation's planning committee approved the scheme by Northfleet Property on the former Northfleet Cement Works located on the south bank of the River Thames.
The 31 hectare site closed as cement works in 2008. The site forms part of the EDC's strategic Northfleet Riverside site, for which further plans are expected this year for more than 600 more homes and a primary school by Keepmoat and for a new commercial scheme with up to 690 jobs in a £35million joint venture between Gravesham Borough Council and the EDC.
Paul Spooner, Interim Chief Executive of the EDC, said: "The transformation of the riverfront in Northfleet is good for housing and good for jobs.
"The River Thames will be opened up for the first time in a century, allowing new and existing communities to walk and cycle in this part of Northfleet and then connect with the rest of Garden City and Ebbsfleet International Station.
"As the development plans progress, more than 2,000 jobs could be created in this area for local people and we will continue to work with private landowners and developers to achieve this."
A spokesman for Northfleet Property said: "We look forward to continuing to work closely with the Development Corporation to secure the early delivery of this key riverside site within Ebbsfleet Garden City."
The planning committee also gave approval for Ebbsfleet Garden City's first pub and hotel.
Marstons is to build the 220-cover pub and 104-bedroom hotel at Ebbsfleet Green to complement Redrow's 950-home development which is currently under construction.