Gravesend man admits trapping wild birds
19 November 2018, 11:17 | Updated: 19 November 2018, 11:28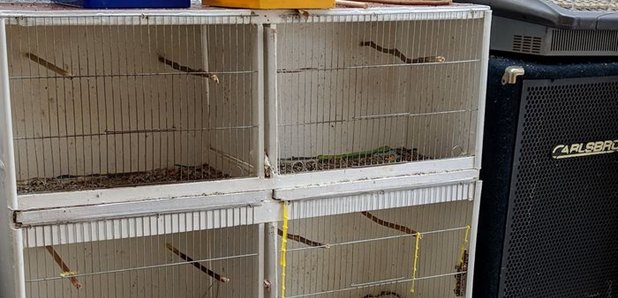 Officers from the police rural task force and the RSPB searched his home


A man from Gravesend who was caught illegally trapping birds has appeared before Medway magistrates court.
On Monday, 12 November 2018 the 39-year-old admitted possessing wild birds, using bird lime and possessing items used for trapping birds.

Officers from the Rural Task Force teamed up with the RSPCA on 14 June 2018 to execute a search warrant at the man's Gravesend home.
The action, which followed information being received from the RSPB, resulted in a number of caged wild birds being seized. Officers also found rat glue and other bird trapping equipment.

The man was interviewed by officers on 18 June 2018 and admitted he was trying to catch wild birds in his garden.

He was given a 28-day curfew order and must stay at home between 7pm and 7am and ordered to pay £300 in costs and a £85 victim surcharge.

Sergeant Darren Walshaw, who co-ordinated the warrant said: 'This is an excellent example of partnership working. The intelligence received from the RSPB allowed us to gain enough information to request a search warrant and the case built by the RSPCA resulted in the man having to admit his guilt.

'Bird trapping is not only illegal, it is incredibly cruel. We are committed to working with our partner agencies to put these criminals, who illegally trap birds for their own financial gain, before the court.'
An RSPCA spokesperson said: 'To take a wild bird from its natural habitat and shut it inside a tiny cage is so cruel. They suffer greatly in captivity, are not used to being in cages and, sadly, often die.
'All wild birds in England and Wales, their nests and their eggs are protected by the Wildlife and Countryside Act 1981 and actions may only be taken under specific licences.'
It is illegal under the Wildlife and Countryside Act to trap wild birds.